39 Blogging Tools To Help Boost Your SEO, Marketing, & More in 2022
If you're running a blog or thinking of starting one, you might be wondering what the best blogging tools are. Blogging tools are the equipment and software you can use to power your blog.
Blogging tools can help you:
Run your blog more efficientlyWrite blog posts fasterOptimize your contentPromote your contentDrive traffic to your blogMonetize your blog content
Running a blog takes work and blogging tools help to make the process smoother. It's about working smarter and not harder. With the help of tools, you can outsource many of the monotonous and time-intensive tasks required to operate a blog so you can save time, save money, and preserve your sanity.
Here's more on the best underrated blogging tools to help run your blog.
Let's go!
What equipment do you need for blogging?
First, let's take a look at the basic equipment needed for blogging. What's great about blogging is that it's something anybody can do. While you'll need a small budget to get started, it's incredibly affordable and with under $5/month, you can run your own self-hosted blog.
At the bare minimum, you'll need these three things to run your blog:
Web hostingDomain nameWordPress
Web hosting is needed for you to run a self-hosted blog. With a self-hosted blog, you're given a lot of freedom in how you operate. You can install display ads, apply custom themes, add coding to apply specific features, and more.
Web hosting is a modest investment that can start at around $3/month.
Next, a domain name will allow you to have a blog with a url that looks like this:
www(dot)yourdomainnamegoeshere(dot)com
Many times a domain name can be bought with your web hosting. It's a valuable investment that goes a long way in helping you build a professional blog.
There are also plenty of ways to get a free domain name, listed in our other article here.
Lastly, WordPress is a content management system and it's the platform you'll run your blog on. You'll use WordPress to apply your website theme, write blog posts, create webpages, and more.
For more, read our article on how to start a blog that makes money using WordPress.
39 Underrated Blogging Tools to Help You Efficiently Run Your Blog
Here's a list of the best tools you can use to efficiently run your blog. We'll break this list down into these areas:
Content brainstorming: These blogging tools help you come up with ideas for your blog. Writer's block can happen, but these resources will keep your creative juices flowing so you can come up with an endless number of content ideas for your blog.Content creation: For crafting the perfect blog post, content creation tools exist to help you save time and create polished, professionally-written blog posts.Productivity: It's about staying productive, not staying busy. These productivity tools will help you with just that. They will be your helper to keep you on track and working as efficiently as possible.Marketing: Blogging marketing tools are for blog promotion. This will help you spread the word about your blog and content so it can be seen by the masses online.Analytics: For measuring your blog metrics, analytics tools bring it all into focus. You can see where traffic originates, which blog posts are most popular, where your audience is from, and more.Monetization: These blogging tools will monetize your blog and make you money.
Content Brainstorming
Content tools used for brainstorming help you come up with blog ideas to write about. One of the key components of a successful blog is your content. You'll get valuable insights about content like keywords, backlinks, questions searchers are asking, and more.
1. Exploding Topics
Exploding Topics is a website you can visit to discover the latest trending topics. This can help you brainstorm blog topics to write about that are relevant right now.
You'll be able to explore former, current, and developing trending topics including:
Growth and volume metrics across various time periodsRelated topics
This is a free trend discovery tool, but there's an upgraded version available for a fee which gives you unlimited access to the site.
2. Quora
Quora is an information-sharing platform. People can ask and answer questions about a variety of topics from how to start a small business to tips for self-improvement.
This is a great place to research real questions that people are asking. Use those questions to fuel your blog posts and tackle the burning issues people are talking about.
You can also use Quora to build traffic to your blog, so it doubles as a content promotion blogging tool too! Visit Quora and search by topic or keyword to start your research. Identify questions you can address in your blog and answer them, helping you build an online reputation as an expert in your field.
3. Google Trends
Google Trends lets you search topics to identify possible trends. You can review search volume and compare multiple keywords against each other. This is a free tool to use to get data and insights on shopping trends, daily trends, and more.
4. BuzzSumo
Buzzsumo allows you to do a content search from millions of articles, revealing powerful insights like:
Number of social sharesTotal engagementTop articles by keywordBacklinks
You can try out Buzzsumo for free with a 30-day free trial.
5. Answer The Public
Answer The Public is a free search tool that gives you insights on what people are searching online. You can type a keyword into the search and it'll give you tons of phrases and questions that people are asking about the keyword.
Here's an example using the keyword, web3:
Content Creation & seo
Content creation tools help you craft your content. These include keyword research tools, SEO tools, and writing tools which can speed up your writing time, help you work more efficiently, and create SEO-optimized content.
6. Jasper AI
Jasper AI is an artificial intelligence tool you can use to save time creating content. This writing assistant can be used to crank out volumes of content for your blog super fast. It can read and write in 25 different languages and integrates with Surfer SEO.
You can use Jasper for content like:
Blog postsFacebook adsEmail newsletters
There are a bunch of different ways you can utilize Jasper for your blog. If you want a shortcut to creating quality content, this is a tool to try.
7. Ahrefs
Ahrefs is one of the leading keyword research tools online.
With Ahrefs, you can do:
Keyword research and optimizationBacklink buildingGet valuable insights about top website pagesReview keyword volume, traffic potential, and more
This is a paid tool but there's a $7 trial for 7 days so you can test-drive the SEO tool.
8. Ubersuggest
Ubersuggest is a free SEO research tool that lets you perform a limited number of SEO searches per day at no cost. For unlimited access to the tool, you'll need to get the premium version of the tool on a paid subscription.
With Ubersuggest, you can expect to perform research to get:
A domain overviewTop SEO pagesKeyword suggestionsBacklink data
This blogging tool can be used to get insights about your blog and do competitor research.
9. Google Keyword Planner
With Google Keyword Planner, you can do keyword research using Google's free keyword tool. If you're looking for a free tool that will let you perform unlimited keyword research, Google Keyword Planner is what you'll want to use.
Review data and insights about keyword strength, competition, average monthly volume, and more. You can also discover information about paid keywords which is helpful if you want to pursue paid advertising in the future.
10. Keywordtool.io
Perform valuable keyword research including finding keywords for Google, Yahoo, YouTube, and more, plus check search volume, and more using Keyword Tool. You can use this SEO tool for 750+ long-tail keyword suggestions for each search term for free, no account required.
11. Rankmath
Rank Math is an SEO WordPress plugin. With Rank Math, you can add SEO tools to your WordPress website:
Search ConsoleSchemaLocal SEO and Knowledge GraphImage SEOWoocommerceSitemap
Rank Math can help you optimize your blog content, measure and track keywords, win rich snippets on Google, and a lot more. Pricing starts at $59/annually.
12. Writecream
Writecream is an AI writer and content generation tool. You can use it to help you create content like:
Digital adsCold emailsBlog postsArticlesPodcastsVoice notes
What makes them unique? They boast that their tool can:
Write a 1,000+ word article in 30 secondsCreate digital ads for Facebook and Google in one clickCreate content in over 75 languages
They also have an app and browser extension to help you use Writecream anywhere. They have a wide range of plans to choose from including a free forever plan.
13. Speedwrite
Speedwrite is an automatic text generator. You provide it a prompt and it will rewrite it for you. It works quickly and you get unique content auto-generated for your blog, website, ads, etc.
You can use Speedwrite on any computer and they have tons of helpful tips so you can get the most out of the tool. This is a paid tool with multiple payment options available.
14. Anyword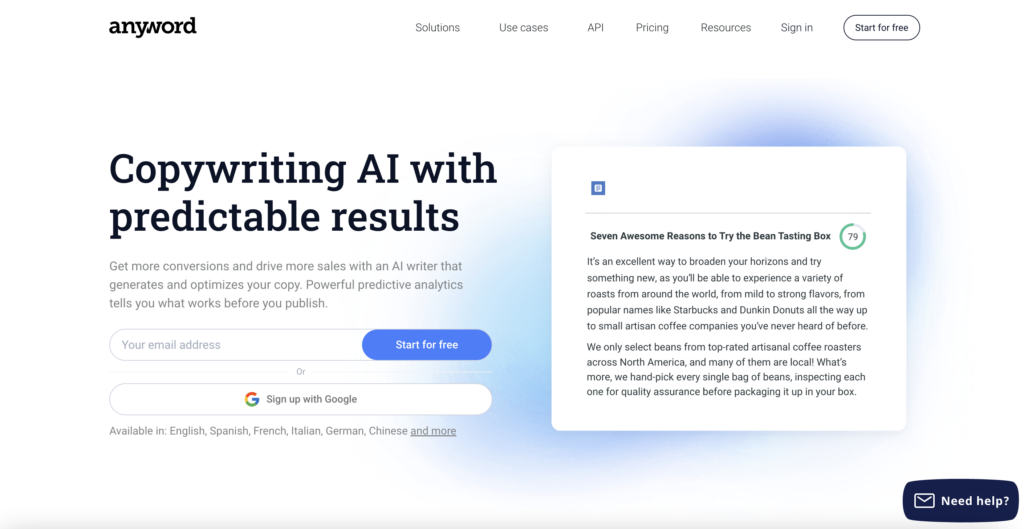 Anyword offers AI copywriting. They use AI (artificial intelligence) to help you write content like:
Landing pagesAdsProduct pagesBlog postsEmails
This is a premium tool, but you can try it out for free to see if you like it.
15. ShortlyAI
ShortlyAI call themselves your writing partner. They use the power of artificial intelligence to help you crank out content faster and more efficiently.
It's an opportunity to make better use of your time while writing and it can help you free yourself from writer's block.
Productivity (Work faster and more efficiently)
This next group of blogging tools help you manage your time so you can work faster and more efficiently. They can help with productivity and help you get more done in less time.
16. FocusMe
It's inevitable that distractions can pop up while you're trying to do deep work and craft your blog posts. FocusMe helps eliminate distractions for you while researching and writing for your blog.
They call themselves the automated distraction eliminator.
Eliminate or limit website popups.Gain productivity.Limit social media rechecking.
Distractions are blocked and you can work more productively as a result. They offer a 7-day free trial with affordable pricing under $8/month with annual and 3-year plans available.
17. Toggl
Toggl is about time tracking and reporting. They also have other tools like candidate hiring and screening as well as team and project planning. The time tracking and reporting is what I'll be covering.
The time tracker is used by over 70,000 organizations and it's an easy way to track your work and productivity.
18. Google Docs
Google Docs is part of Google's suite of online tools. This is the word processing software that allows you to write documents online as you would with software like Microsoft Word, for example.
The feature I recommend you check out within Google Docs is the voice typing feature.
With voice typing, you can speak aloud, dictating as Google transcribes your voice to text in a Google doc. It's a neat way to improve your speed of writing and can give you a break from typing on the computer.
19. Egg Timer
Egg Timer is a countdown timer. It's a great way to time your work so you can improve productivity throughout the day. It's easy to use and free. There's even an option to use the Pomodoro method of timing so you work for 25 minutes before breaking.
20. Hemingway
Hemingway is a copy editor tool that highlights errors in your documents and helps make your copy better by pointing out improvements like:
Passive voiceReadabilityLengthy sentences
You'll like the simple layout and easy-to-use navigation. It's effortless to write directly in Hemingway or paste your draft in preparation for editing.
21. Grammarly
Grammarly is an editing tool and online grammar checker. With Grammarly, you can scan your documents to check for errors in spelling, grammar, and punctuation as well as improve readability.
Grammarly is arguably the best tool for blog editing. It's available for free with an option to upgrade.
22. WordPress Distraction Free Writing
This built-in tool is available right from WordPress. When you activate it, it creates a distraction-free interface for typing your copy into WordPress. You can toggle this free tool on or off, as you choose.
Marketing
These are some of the best blogging tools to further your marketing efforts. This includes social media marketing tools, email marketing tools, and digital marketing tools.
23. Ninja Outreach
Ninja Outreach is one of the best outreach tools online. You can use it to find:
Business profilesEmailsInfluencer contact information
This is useful for forging relationships with businesses and creators for influencer marketing and content marketing through guest posting.
24. Buffer
Buffer is one of the best tools for social sharing. It can help you improve your social media marketing game by creating social media posts that can be shared to different social platforms quickly and easily.
It helps you:
Create and share social media postsMeasure your social media performanceSchedule your posts in advanceRespond to comments quickly
Buffer is definitely one tool to have in your toolbox to amplify your social media marketing efforts. It will save you time and aid in developing your digital social footprint.
25. ConvertKit
ConvertKit is an email marketing software tool made for creators. For email marketing, it's one of the leading blogging tools online.
ConvertKit caters to the blogging and creator community, offering features like landing pages and email signup forms you can set up and embed within your blog. You can also integrate ConvertKit with other tools you use, run automations, and a lot more.
Uncover the best parts of ConvertKit in our review here.
26. Missinglettr
Missinglettr helps you distribute your content to social networks. For every new piece of content you publish on your blog, Missinglettr can create and distribute branded social media content for it to help you get more traffic and grow your social network.
27. Sumo
Sumo is a free email capture tool with an option to upgrade to gain access to all the features like A/B testing and removing the Sumo logo branding. This plugin is available through WordPress, and once you install and activate it on your WordPress site, you can begin building email capture forms for your blog to grow your email subscribers.
28. ClicktoTweet
Clicktotweet is an easy-to-use tool that helps you promote your blog posts on Twitter. You can create tweetable links that your blog readers can share on Twitter.
29. OptinMonster
OptinMonster is a lead generation tool. You use it to capture customers that land on your blog. They offer a variety of features like light boxes, floating bars, exit intent detection, and more.
This is a paid tool priced affordably, with plans starting at $9/month, paid annually.
30. Quuu
Quuu can help you grow your digital footprint by finding curated content to post on social media. It will find the content for you to post so you can save time searching the web.
Discover new content and profiles that you can source, curate, and share on social media.Access RSS feeds and organize your content to read for later.
Posting relevant content on social media is a great way to be active on social networks, post consistently, and grow your network, which can drive traffic to your blog and increase your brand awareness.
31. Systeme
Systeme is an all-in-one marketing platform. It includes:
Email marketingSales funnelAffiliate programCoursesEvergreen webinarsProduct salesBloggingWebsite builderBusiness automation
It's 9 tools in one! This is a great tool to manage various parts of your blog and business, especially marketing. You can use Systeme's marketing tools to drive traffic to your blog, replacing expensive tools you might be using or considering like Kajabi, ClickFunnels, and others.
Systeme offers free plans and paid plans starting at $27/month.
Analytics
Data analytics blogging tools provide valuable insights that you can review so you can learn from your blog. They allow you to measure metrics like blog traffic and traffic sources, audience demographics, bounce rate, and more.
It's critical that you have access to this data so you can see your blog's performance, identify successes and pitfalls so you can continue to improve it over the short run and long run.
32. Google Analytics
Google Analytics is one of the best blogging tools to measure data and analytics across websites. It's the standard for analytics tools in the blogging world. It's provided by Google and it's free.
Once you connect your blog to Google Analytics, you can review:
Number of page viewsBounce rateAverage time on pageAcquisition channelsLanding page performance
You can see which search engines and sources are sending your blog traffic, which blog pages get the most traffic, and a lot more.
33. MonsterInsights
MonsterInsights works with Google Analytics to display the data analytics right in your WordPress dashboard. This WordPress plugin can be installed for free and get your analytics insights to you, right at your fingertips.
34. MarketMuse
MarketMuse helps you with content planning and content optimization. If you want to produce the best blog post possible, you'll want to use MarketMuse. You can paste your blog draft into MarketMuse and optimize it for search engines.
Research topics to write about.Get a competitive analysis of the top 20 ranked pieces of content on your topic.Use it as a keyword research tool to optimize your content for SEO.Access to a list of questions the internet is asking about your topic.
35. SEMRush
SEMRush is a keyword research tool you can access for valuable insights about your blog's data and analytics. Learn what backlinks you've acquired, which keywords you are ranking for, traffic analytics, and more.
You get 10 free searches per day or unlimited access by upgrading to the paid version of SEMRush.
Monetization
Monetization tools give you options to create income for your blog through ads, sponsorships, digital products, and other potential revenue streams.
36. Teachable
Teachable is an online learning platform. You can use it to host a course, membership, or coaching service you teach to your audience. Teachable offers hosting, content distribution, payment collection, and they have a bunch of helpful features you'll find useful as an instructor:
Coupons and discount codesAffiliate programSales page builderTax managementOnline support
Teachable offers free and paid plans. The free plan can accommodate one course and unlimited students while the paid plans are a better fit for instructors that will teach multiple courses and need access to premium features like custom domain, email marketing, and a private community.
Learn more about Teachable and how it can help your brand here.
37. Google Adsense
Google Adsense is an ad network that can monetize your blog with display ads. It's free to join, and once you apply and you're accepted, you can begin creating ads on the platform to insert on your blog.
When your blog readers click the ads, you get paid.
38. Ezoic
Ezoic is an ad network like Google Adsense. They'll help place display ads on your blog and unlike other premium ad networks are built for every size and type of site!
You'll just to want to make sure you have these:
High-quality websiteGood standing with Google AdsenseOriginal contentLong-form, engaging content
39. Podia
Podia gives you a free website for selling courses and digital products online. This all-in-one platform includes features like:
Website builderCommunityDigital productsWebinarsWorkshopsEmail marketingCoachingConsultationsEmbedsIntegrations
This is an excellent tool to monetize your blog for online sales, whether you choose to sell consulting sessions, courses, or digital products. They offer a flexible free forever plan and paid plans start at $33/month.
Discover the benefits of Podia in our review here.
Which tool is best for blogging?
The best blogging tools are going to be those that are essential to running a well-performing blog, like these:
Bluehost is one of the best website hosting platforms online. It is top-performing, easy to use, and affordable. You can get set up with Bluehost super fast and have your web hosting up and running for your blog quickly. Plus, many of their hosting plans come with some incredible perks like a free SSL certificate, free domain for one year, free CDN, access to custom themes, and more.
Read this free guide how to start a WordPress blog with Bluehost.
WordPress is the platform you'll use to run your blog. It's a must-have for blogging, though not the only choice available. People love WordPress because it is simple to set up and beginner-friendly. Bluehost even has a 1-click WordPress activation built into their web hosting setup process!
Rank Math is a WordPress plugin you can install and activate through your WordPress plugins dashboard. Once installed, you'll be able to use the guidance Rank Math provides to optimize your blog posts for search engines.
Grammarly is a must-use grammar checker that will help you produce a polished piece of content that's free of errors in grammar and spelling. Grammarly has free and paid plans.
If you're wondering about the bare minimum of blogging tools to use, these four are our recommendations, but you should review all 39 blogging tools in this post. All of them are really groundbreaking and can take your content to the next level.
Why is blogging so popular?
Today, over 600 million blogs exist, up from just 23 blogs in 1999. Around 7.5 million blog posts are created daily and if you add a blog to your existing website, you can boost your traffic by 434%, according to this source.
There are a ton of benefits to blogging. It's grown in popularity because:
Blogging is easy.It's a side hustle that anybody can do.Blogging is a fun hobby that you can monetize.You can build an online reputation and build out your personal brand.It's an outlet to express yourself.
Blogging is easy
People enjoy blogging because it's easy to do. Setting up a blog can be done by anyone. You don't need to be tech savvy. If you can follow instructions, then you can set up a blog.
Once your blog is up and running, it's relatively easy to run. You research and write content, engage with your readers, monetize your blog, and monitor your growth over time.
Blogging is a side hustle anybody can do
Starting a blog has a low barrier to entry. You don't need to have a specific background, experience, or skills to create and run a blog. Plus, you can build your blog around just about any topic under the sun.
There are successful blogs built around topics like:
Solopreneur travelFeeding a large family on a budgetStarting and running an Amazon businessContainer gardening
There's no limit to what you can do with blogging!
Blogging is fun (and you can make money from it)
If you're looking for an enjoyable hobby that you can make money from, try blogging. It's an opportunity to write about and share things you know with an audience.
If you enjoy research and learning, you can get that out of blogging by looking into topics to write about. It's rewarding to start something from scratch and watch it grow.
And it's an opportunity to make a lot of money!
Top bloggers like Michelle Schroeder-Gardner have made millions from blogging!
Blogging allows you to build and grow your online reputation and personal brand
For building out your reputation online and developing your personal brand, blogging is the perfect outlet. You can write about what you know, share your passion and expertise and connect with an audience online.
Blogging can also help you:
Sell your digital products and servicesGrow your email listGrow your social channels and enlarge your digital footprint
It's very rewarding and can lead to fruitful career opportunities.
Blogging is an outlet to vent, express yourself, and connect with others
Lastly, blogging is an excellent outlet to express yourself. It's one of the top reasons why people start blogging. You can write online, share what you know, and connect with others online through blogging.
Bottom Line
Whatever reason you choose to start blogging, you can make it easier on yourself and more enjoyable by using blogging tools. From saving time creating blog posts to boosting your productivity, making SEO research an easier process, or quickly spotting grammatical errors, these tools are a must-try for bloggers at every level.
If you want to blog more efficiently and blog smarter, consider investing in blogging tools.
Which tool will you be trying out first?