Eco-friendly Trends in Patio, Lawn & Garden Products
Summer's nearly over, but Jungle Scout Cobalt data shows that some of the year's most significant seasonal spikes are still to come in the Patio, Lawn & Garden category on Amazon. 
In our soon-to-be-released Patio, Lawn & Garden Category Snapshot, we explore the seasonal trends that should inform upcoming holiday strategies for this category, as well as the brands, search trends, and products that have led the way in sales and revenue this spring and summer. In this blog, we'll give you a glimpse of the insights we've gathered, shedding light on consumer interests and burgeoning product niches.
Seasonal Spikes in Patio, Lawn & Garden Sales
As the seasons change, so do consumer preferences. Our upcoming Category Snapshot report reveals fascinating patterns that should factor into holiday season planning for many brands and retailers:
Aside from soaring summer sales, grills see an additional spike during the Black Friday – Cyber Monday weekend. Some brands, like Blackstone and Char-Broil, saw 250%+ revenue increases between October and December 2022.
Most outdoor cooking tools and accessories experience an annual sales peak in the summer, but sales of smokers reach their height just before the holidays. For brands like Traeger, Masterbuilt, and Pit Boss, this led to sales jumps as high as 330% between October and December 2022.
Sales in the Generators & Portable Power sub-category jump in early fall and during the holiday season. The brand Jackery, for example, saw sales increase nearly 240% from mid-September to mid-October 2022, and over 250% from early November to December, 2022.
Search trends also shed some light on when shoppers begin the hunt for their fall and winter outdoor decor. According to keyword trends on Amazon, consumer searches for things like Halloween and Christmas decorations are already well underway.
In the last 90 days on Amazon:
Searches for "outdoor Halloween decorations" have increased by 6,436%
Searches for "Halloween outdoor decorations" have increased by 3,233%
Searches for "Halloween outdoor decor" have increased by 3,136%
Searches for "outdoor Christmas decorations" have increased by 2,323%
Searches for "Christmas decorations outdoor" have increased by 3,364%
Searches for "outdoor Christmas lights" have increased by 489%
Consumer Trends in Patio, Lawn & Garden
Homesteading and conservation are emerging as influential trends in the Patio, Lawn & Garden category. With growing concerns about climate change, consumers are increasingly drawn to eco-friendly options and sustainability practices. Social media platforms are abuzz with homesteading content, and this interest is reflected in the surge in searches for related terms on Amazon:
Videos about homesteading have 6.8 billion views on TikTok
"Backyard homesteading" searches are up by 661% on Amazon in 90 days
The trend towards more sustainable and eco-friendly outdoor spaces is leading to growth in several niches within the Patio, Lawn & Garden category:
Beekeeping
Sales of beekeeping supplies, with 23% year-over-year growth, are heating up. Brands like Beecastle, Humble Bee, and Maybee are competing for visibility, and social media is playing a pivotal role: videos about beekeeping have nearly 2 billion views on TikTok.
This Langstroth beehive has enjoyed a sweet revenue boost of 1,003% on Amazon in the last 90 days.

There must be a lot of buzz around this VIVO electric honey extractor: revenue for this product is up 1,533% on Amazon in the last 90 days.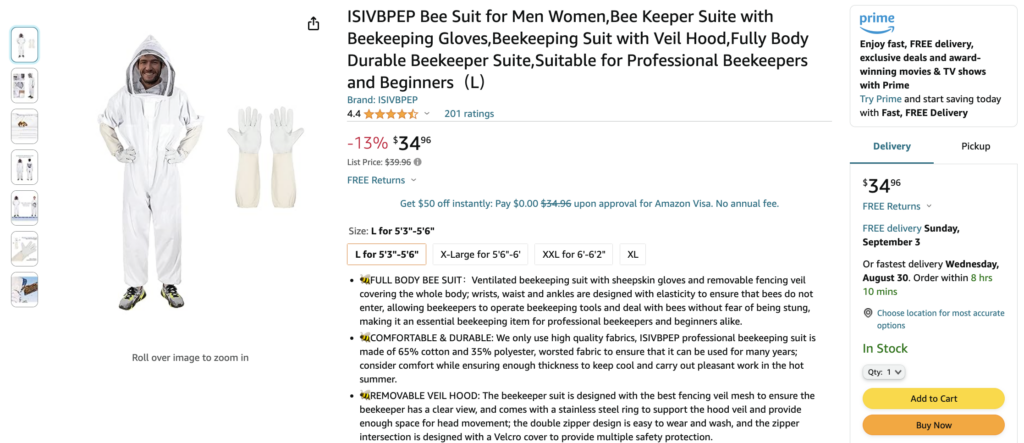 Beekeeping can be a family affair with this beekeeper suit, suitable for men or women, from beginner to expert. Revenue for the suit is up 1,144% on Amazon in the last 90 days.
Composting
Composting products had a revenue boost of 28% year-over-year, with individual products experiencing nearly 600% growth in just six months. Market share leaders in this niche include Lomi, Vivosun, and Miracle-Gro.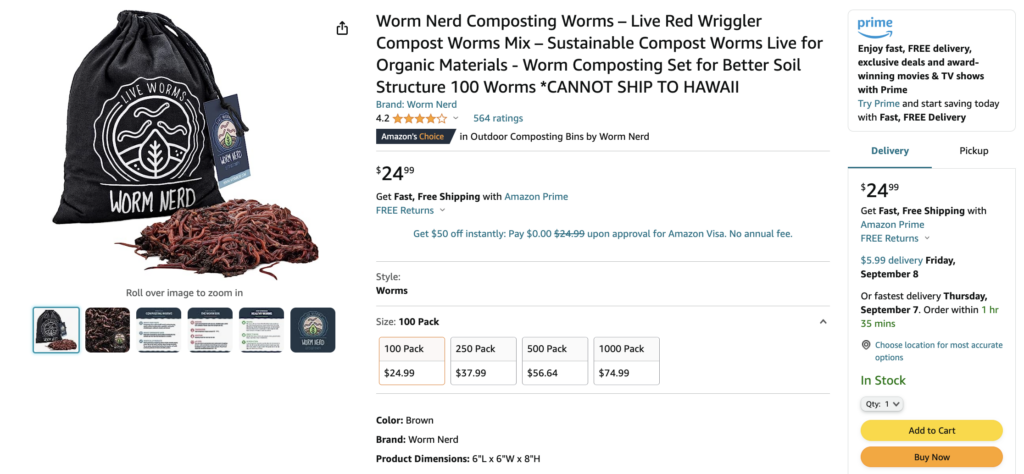 It's a dirty job, but Worm Nerd has it covered for a lot of consumers this season. Revenue for these composting worms has jumped 572% in 90 days.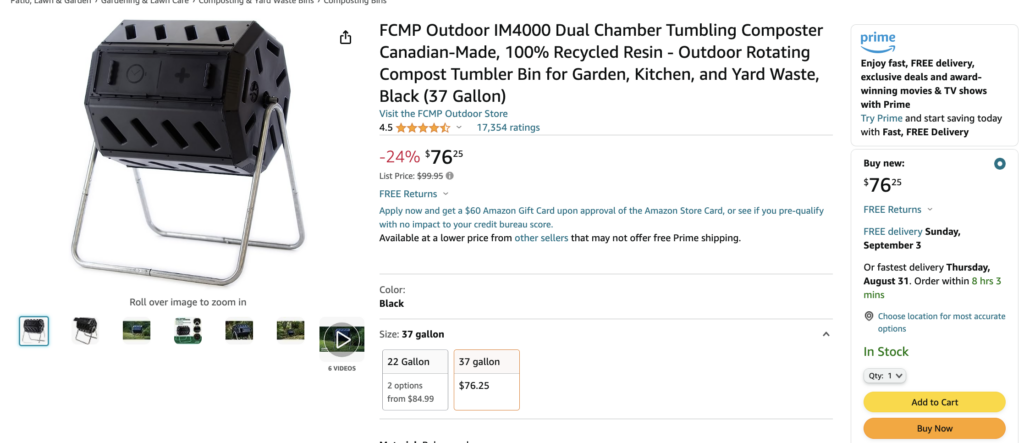 Revenue for this FCMP Outdoor tumbling composter is far from tumbling: over the last 90 days, it has grown by more than 18,000%!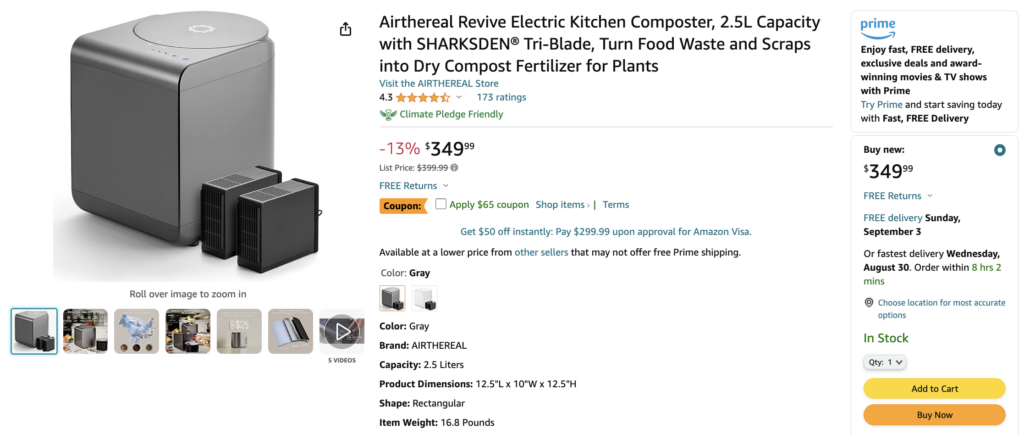 Composting is trending from the kitchen to the backyard: Amazon revenue for this Airthereal countertop composter has grown 3,528% in the last 90 days.
Eco-Friendly Pest Control
Eco-friendly pest control product sales are up 28% year-over-year, with 25% more brands entering the market on Amazon in the past year. Brands like Terro, Catchmaster, and Ortho lead in market share for the overall pest control category, while competitors like Thermacell, Super Ninja, and Bug Ball take the lead in eco-friendly options.
This deluxe Bug Ball insect killer kit is scratching the eco-friendly itch for shoppers looking to protect their skin without hurting the planet. Revenue has grown more than 3,500% on Amazon in the last 90 days.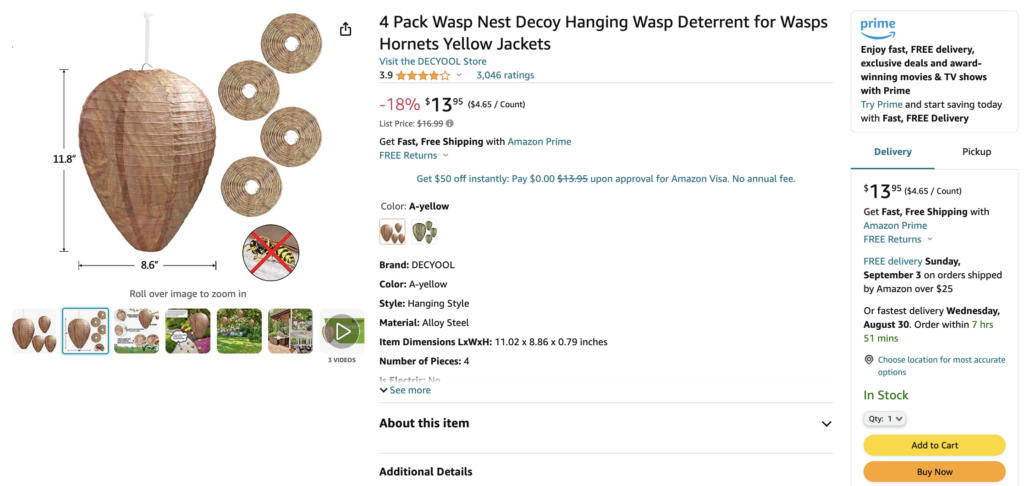 Instead of using chemicals to ward off wasps and other insects, these decoy nests make pests instinctually build their real nests somewhere else. Eco-friendly shoppers seem on board with the concept: revenue for this product has grown 1,163% on Amazon in the last 90 days.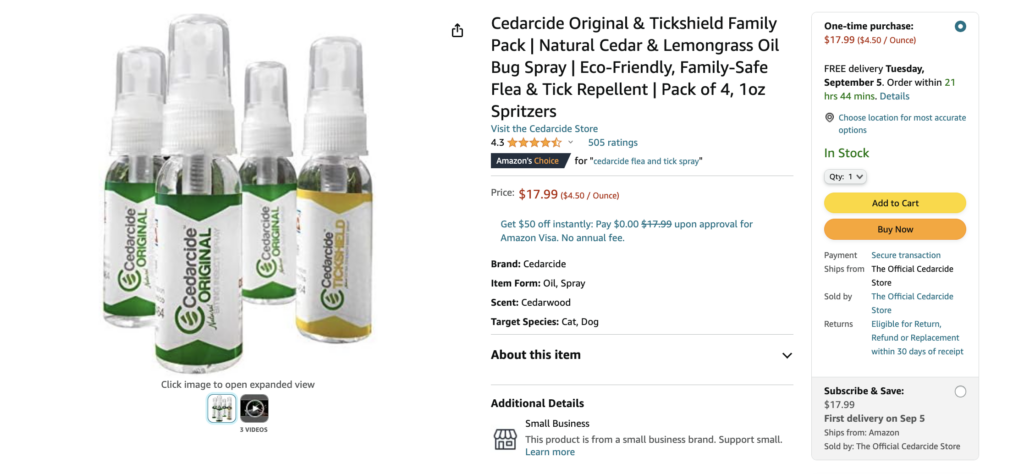 Searches for "natural bug repellent" are up more than 1,000% in 90 days, leading to serious growth for some brands. Revenue for this Cedarcide Natural bug repellent is up 550% over the same time period.
Strategy Insights for Brands and Retailers
In addition to providing a solid basis for benchmarking performance as brands and retailers reflect on spring and summer season sales, the data in the Patio, Lawn & Garden Category Snapshot offers valuable insights to shape your Amazon strategy for the upcoming months:
Capitalizing on Seasonality: Align your marketing efforts with seasonal trends, tailoring campaigns to match consumer behavior during peak sales periods like the upcoming Prime Big Deal Days event, the crucial Black Friday – Cyber Monday shopping weekend, and the holiday season as a whole.
Eco-Friendly Focus: Leverage the surge in interest around sustainability and eco-friendliness by highlighting relevant products in your catalog and their benefits. Apply for Amazon's Climate Pledge Friendly badge for relevant products to help eco-conscious consumers find the more easily and help them stand out from competitors.
Niches on the Rise: Consider diversifying your product offerings in the coming year to cater to emerging niches like beekeeping, composting, and homesteading.
Content Creation: Ride the wave of consumer interest in these trends by creating informative content, guides, and videos that showcase your products' relevance. Combine this with holiday-focused messaging for relevant products that are likely to be popular gifts or wintertime purchases.
Optimize Search Keywords: Capitalize on keyword trends by incorporating popular terms into your product listings and advertising targets to enhance visibility.
Get More Data on the Patio, Lawn & Garden Category
This blog only scratches the surface of the valuable insights you'll find in our Patio, Lawn & Garden Category Snapshot. Embrace the opportunities presented by changing consumer preferences and equip yourself with the knowledge needed to craft a winning strategy as you plan for the holiday season and beyond by downloading the full report on August 31.