How Faith VanderMolen Earns $3.5k Per Month Promoting the Vegan Diet
When Faith VanderMolen decided to make a major life change and go vegan, she couldn't have imagined where this new adventure would take her. 
In her quest to live healthier, she started a blog in 2015 called The Conscientious Eater to keep all of her vegan and plant-based recipes in one place. But she had no game plan.
As time went on, she learned about monetization and SEO, and in 2018  she and her husband were able to increase their food blog income by 5 times in just 3 months.
Today, she's making $3,500 from her blog. She also wrote a cookbook called Plant Biased and has a popular YouTube channel to teach people how to prepare vegan recipes.
Some of the topics discussed by Faith include:
Why she went vegan
Why she became a digital nomad
Her Pinterest strategy
Her keyword research strategy
How and why she wrote a cookbook
How she updates old posts
How she creates her content briefs
How her clever email sequence introduces people to her brand
And much more!
I'm a digital nomad, homeschooling mother of two young kiddos living in Kuala Lumpur, Malaysia.
My husband, Brett, and I moved to Asia back in 2015. We have since lived in China, Thailand, and now Malaysia. We love to travel as a family and explore different cultures and cuisines. 
Why Faith VanderMolen Created Her Site
I went vegan right after Brett and I got married (surprise!!!). We knew we wanted to move overseas soon, so I started The Conscientious Eater to keep track of all of the vegan recipes I was creating and as a form of online journal.
I went vegan overnight after watching the documentary Forks Over Knives. 
I've always been interested in health and nutrition; the concept of eating plants in their whole form just made sense to me. A plant-based diet seemed like the best way to eat for my long-term health. It also seemed like a way to prevent many of the chronic diseases many Americans eventually face. 
I continued to research more about the benefits of a plant-based diet and slowly started to learn more about how it benefits my health, the environment, and animals. These concepts are what keep me eating a mostly plant-based diet to this day. 
Why Faith VanderMolen Went Vegan
Transitioning to a vegan diet overnight was hard. I remember waking up the next morning after I decided to go vegan and standing in front of my open refrigerator thinking, "What on earth do I eat for breakfast?" 
I was newly married, wasn't great at cooking, and was used to eating greek yogurt, eggs, and chicken on a regular basis. Plus, no one around me ate a plant-based diet or really understood why I was cutting out all meat, dairy, and eggs from my diet.
Thankfully, my husband was supportive. Even though he has never switched to a fully plant-based diet, he is happy to eat whatever I cook for him. It's also helpful that he can't cook, so he is forced to eat whatever I make!
Why She and Her Husband Became Digital Nomads
My husband and I were both avid travelers before we met. We quickly decided that we wanted to live overseas after getting married. Asia is fun, cheap, and diverse so we started out in China. We have since lived in Thailand for a short time and are now based in Malaysia. 
We want to raise our kids overseas and plan to homeschool so that we can have the freedom and flexibility to travel any time of year. 
How Much The Conscientious Eater is Earning
Our website is making $3,500 per month.
Here's our AdThrive data for 2021:
And this is from our YouTube channel over the last 28 days: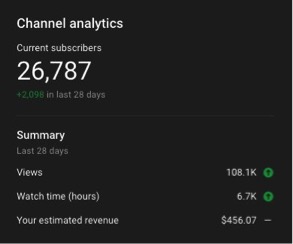 Our income is broken down as follows:
AdThrive – $2,200 – $3,200
Plant–based cookbook – $400
YouTube – $100 – $500 
Amazon Affiliates – $50
Other affiliates and sponsored content – $100 
Faith VanderMoler's Growth Strategies
Our number one strategy by far is SEO, which accounts for around 80% of our profit.
In the beginning stages of my blog, I didn't know anything about SEO and I would just write about my life in China or Thailand. Then I would share an unrelated recipe at the end of the post. 
Since learning more, I've slowly been editing old posts to make them more SEO-friendly, which has started to increase the number of pageviews we get per day/month.
To learn the ins and outs, we started on Food Blogger Pro, where our theme company Feast has some good content on establishing E-A-T. Mediavine and AdThrive have put out some good content as well. Our business partner, Josh, also has good background knowledge in SEO.
We use Ahrefs to do keyword research and find low-hanging fruit and content to update by looking at the keyword difficulty and search volume. To update posts, we create content briefs using Topic, we use Ahrefs keyword explorer, and also Google. 
One thing we started doing recently is using Topic to see what topics our posts should cover. Then, if there's a recipe that has a ton of comments, we search for that topic in the content to see what people are actually asking about or commenting on.
Her Unique Marketing Strategy
We have a funnel set up that takes people from YouTube to email to the website and then to a book sales pitch. 
I do meal prep videos on YouTube, and for those videos I share a free recipe or meal prep guide. This lead magnet method isn't anything new, but it's worked well for us. 
We have a great welcome sequence through ConvertKit that helps introduce people to our brand, segment them based on what kind of content would be most helpful for them, and eventually introduces them to my cookbook, Plant Biased.
Our email list currently has about 10,000 people on it. We gain about 500 per month. Our conversion rate for book sales is around 3-5%. It helps that it's highly rated on Amazon!
Using Pinterest
I really focused on growing my Pinterest account back in 2018 and saw it grow substantially in a short amount of time. Then having two little kids, lots of moving, and life got in the way and I stopped pinning consistently. 
Just at the start of 2022 we decided to focus on our Pinterest account again. We hired a Pinterest consultant and she helped us develop a strategy. We now pin daily and are hoping to see lots of growth and pageviews to our site soon!
Keyword Research
Our keyword research strategy is to find keywords that are at our punching level. We're not a huge site like Minimalist Baker or Pinch of Yum, but we're not just starting out either. 
This means that we go after medium difficulty recipe keywords that are between a keyword difficulty of 10-40 on Ahrefs.
As for volume, we try to target anything from 300 to 7,500.
Link Building
We honestly have a lot of room to grow in when it comes to link building. Our primary focus has been on building a stronger site structure and internal linking profile.
We're not afraid to ask for links from other related websites, but we don't have a dedicated outreach person to do this.
Right now we're using all our social media channels (YouTube, Facebook, Pinterest, Instagram) as a means to connect with other vegan bloggers and develop a relationship that can then lead to mutual cooperation (often involving links).
For example, having a published cookbook—even one that's self-published—has been a great advantage for us in this area. It allows us to offer a valuable resource to people (a book that is sold on Amazon) so that they can see the kind of quality content we produce. 
Our pitch in the past has been something like "Can I share with you a copy of my new cookbook? If you like it, I'd be happy to offer 'x' number of copies for you to give away to your audience!" It's not a direct link request, but the result, when positive, can result in a link to our website.
Achieving Current Revenue Levels
I created The Conscientious Eater in 2013 as a hobby, but didn't realize its potential until 2018 when my husband, Brett, started learning about how to monetize websites. Since then, it's been a side job. 
In 2020, we brought on a partner that has become a great friend of ours. And just this year we hired our first virtual assistant. All of us work part-time on the site for about 10 hours per week on average.
I figured out how to put Google AdWords on the site in 2015 and it made around $100/month from 2015 to 2018.
Then Brett wrote an article about our decision to focus on monetization in the summer of 2018:  How I 5X'd My Food Blog Income in 3 Months.
Here's our monthly income before and after:
It's a little hard to see, but it starts in 2015, jumps in August 2018 and I've updated it through Nov 2021. It's color-coded based on the income source.
Current Traffic
The Conscientious Eater receives 102,000 page views per month.
Faith VanderMoler's Favorite Tools
We swear by:
Ahrefs for keyword research
Hosting on Flywheel and using the Feast Plugin & Theme, and
Clariti is something that has a ton of potential that we're just getting started with.
Clariti is another creation of the Pinch of Yum / Food Blogger Pro / WP Tasty / Nutrifox empire run by Bjork and Lindsey Ostrum. The reason they've grown so much is because they create really useful tools! 
Clariti is like Surfer SEO. It helps you prioritize content to fix or update. It tells you the word count of each post, how many images are missing alt text, number of links and if there's any broken links. 
By integrating with Google Analytics, you can see how many page views that post is getting and the average time on page.
They have plans to integrate with Google Search Console so that you can see keywords that you rank for and your position (I'm assuming). Integrating with GSC is where the real power will come in!
Her Biggest Challenge
Our biggest challenges have been social media algorithms. 
My Instagram blew up in 2017 to over 40,000 followers, then I took a break for a few weeks while Brett and I were on our babymoon in central Europe. After that break, our growth plateaued and has never recovered.
YouTube has also been a tough nut to crack. 
I didn't get much traction for a while. Then, leading up to COVID lockdowns, everything took off. Everything slowed down after that, but is now picking back up again.
Sometimes I feel like I'm on a hamster wheel trying to keep the algorithms happy and that really has me question whether it's worth it.
With the help of our VA, we're trying a new strategy on Pinterest based on the advice that we got from a Pinterest consultant. With the VA's help, we're also trying a few things on Facebook and Twitter because we've never really made an effort on those platforms.
Creating and updating content on the website will continue to be our main focus, meal prep content on YouTube will be #2, and we'll keep experimenting with Pinterest, Facebook, and Instagram.
Her Most Important Accomplishment
I'm very proud of my cookbook, Plant Biased. It's beautifully designed and I love every single recipe in there! I put a lot of time into the beginner's guide to help people start their plant-based journey. And with an average rating of 4.8, it seems like the people purchasing it on Amazon are loving it too! 
I honestly still can't believe I published a book and that it's being sold on Amazon! This is something I never would have done if it wasn't for our business partner. For years it was just me working on my blog, and then in 2018, my husband started to help me with the technical/financial side of the website. 
My husband has a good friend who is an amazing business man and one day he discovered that I had a food blog. Soon after he offered to invest in my blog and join our team. 
One of the first things he recommended was for us to revamp the ebook that I had created back in 2018 and turn it into a printed cookbook. This terrified me, but with his encouragement and amazing design team, we created a beautiful cookbook that I'm really proud of! 
We published it through our business partner's publishing arm, Go West Media. 
As for marketing, we created a launch group and gave them advance access to the book and encouraged them to write a review on Amazon. Then we launched it by letting everyone know on all of our platforms, especially email.  
I would love to write another cookbook centered around fun, delicious, plant-based food for kids!
What She Wishes She Knew Back Then
I wish I had known how to qualify for ad management agencies like Mediavine and AdThrive in the beginning. We would have qualified for Mediavine back in 2014 or 2015, but didn't know about it until 2018, and it 5X'd our revenue from day 1.
Faith VanderMolen's Biggest Mistake
I'd say our biggest mistake was not doing keyword research early on. It was a hobby at the start, so I just created and posted what I wanted to create and post, but I think we could have been a lot bigger if I had done keyword research early on.
Her Advice for Other Entrepreneurs
Keep experimenting with balancing your time between learning and doing. If you're just learning the whole time and not doing, then you're really just "procrastilearning." 
But if you're just sticking your head down and "doing" all the time, you won't adapt and you won't find new ways of doing things if you research what others are doing and interact with them. Striking the right balance will keep you creating, but also flexible to adapt to changes.