How Sara Trezzi's Lifestyle Blog Earns Up To $30k/Month Through Pinterest and SEO
When Sara Trezzi was working 60-hour weeks in the movie industry, she was very burned out. She dreamed about a different lifestyle. 
After reading a popular book, her perspective changed and she started working on creating alternative income streams. One of those was a blog
Today, Gathering Dreams is the lifestyle blog where Sara shares money, travel, and healthy recipe ideas. Hard work and consistency using SEO and Pinterest have helped her generate up to $30k a month.
Keep reading to find out:
What book changed her life
What other income streams she built
What businesses she tried but which didn't work out
Why she created her blog
What happened after 3 months on Pinterest
Where her blog income comes from
How much traffic she's getting
Her main marketing strategy
Her thoughts on SEO
How she approaches keyword research and link building
Her content creation process
How he grew her email list
Her go-to resources and tools
Her biggest challenge
Her greatest accomplishment
Her main mistake
The advice she would offer other entrepreneurs
Meet Sara TrezzI
I'm Sara, a travel lover, and a healthy food addict.
I used to work in the movie industry. It's a very creative field, and it sounds like a lot of fun, but the reality is a bit different. 
I used to work over 60 hours a week for years. It was a very time-consuming job, and I felt trapped in a situation I couldn't escape. I knew I couldn't keep working like that for another 30 years and that I had to do something to change my work-life balance.
Seven years ago, I was on holiday on a beautiful beach in Sicily, trying to relax after delivering a difficult project at work. I read Tim Ferris' book The 4-Hour Work Week, and all I can say is that it changed my life. 
It made me realize there were other options, and working in an office for 14 hours a day wasn't the only way to earn money.
I then devoted the next few years to finding ways to make money outside a "normal job." 
I first started looking into property investing: I always loved the idea of having a tangible asset. 
With limited financial resources, our initial step was to refinance our primary residence and channel the funds into property flipping. 
This strategic move enabled us to acquire buy-to-let properties, which became the cornerstone of our passive income stream.
However, the revenue from these investments wasn't enough to cover all our expenses. 
This led me to explore the idea of launching an online business, which offers a low-risk and cost-effective avenue for generating income. 
I reached financial freedom about 4 years ago and I now share everything I learned and am passionate about on my blog!
Why She Created Her Blog
Before launching my website in 2017, I started a business to sell tea online. I imported organic tea from Sri Lanka.  The journey was a fascinating educational experience, especially in mastering product photography and marketing strategies.
I also explored the possibility of importing artisanal, high-quality soft furnishings like rugs from Italy for global distribution.
However, I eventually shelved this idea. I found that physical products and the headache of shipping and managing stock weren't for me!
As I mentioned, I also flipped properties for a profit (I loved following Paula Pants from Afford Anything and Bigger Pockets), and my partner and I now have two rental properties that generate passive income. 
But I always loved reading other people's blogs. 
And when I discovered you could actually make money from it, I wanted to give it a go. 
It sounded like the perfect business: you can write a blog from anywhere. 
You just need a laptop and an internet connection. Plus, you can work as little or as much as you like. 
You can write one article a day or one article a month. It's up to you.
Plus, I wanted a passion project to share everything I loved with others. My hope was that my journey to financial freedom and a great life-work balance could help others do the same.
I don't mind sharing bits about my life and my own experience on things, but I don't like the idea of showing myself every day online. I am a bit of an introvert.
When I started my business, every guru out there said people need to be able to see you to connect. 
But I think you can easily connect with your words. You don't necessarily have to communicate by showing your face.
So, I decided to share my story and created a lifestyle blog, Gathering Dreams, that focuses on all aspects of healthy living: 
Healthy recipes, with ideas to fuel your body
Travel tips, since there's nothing I love more than exploring new places
Information on how to save, invest, and earn money unconventionally, as most people don't know that you can create a fulfilling and lucrative alternative life to the typical 9 to 5 without overworking yourself and with no stress.
I wanted to focus first on Pinterest, as my blog and background are very visual, and I knew from my initial research that Pinterest was the quickest way to get traffic.
I gave myself a year to make $1,000 a month, but I was blown away by what happened after only three months: I earned over $3,800!
I still don't know how this happened. 
I focused on crafting articles about savings, income generation, and healthy eating during November, and these topics gained tremendous traction and exploded in January.
I still have to pinch myself every day!
How Much Sara's Earning
My income varies, but I'm currently earning between $20-30k per month. My revenues are split between advertising income (Mediavine – 40%) and affiliate income (around 60%).
As for traffic, again, this varies greatly, depending on the time of year. 
Since I focus on healthy recipes and earning money, I usually have more traffic at the beginning of the year, when people want to get healthier and improve their lives or quit their jobs and start a new adventure.
I get between 400 and 600k page views a month with peaks of 700k page views per month.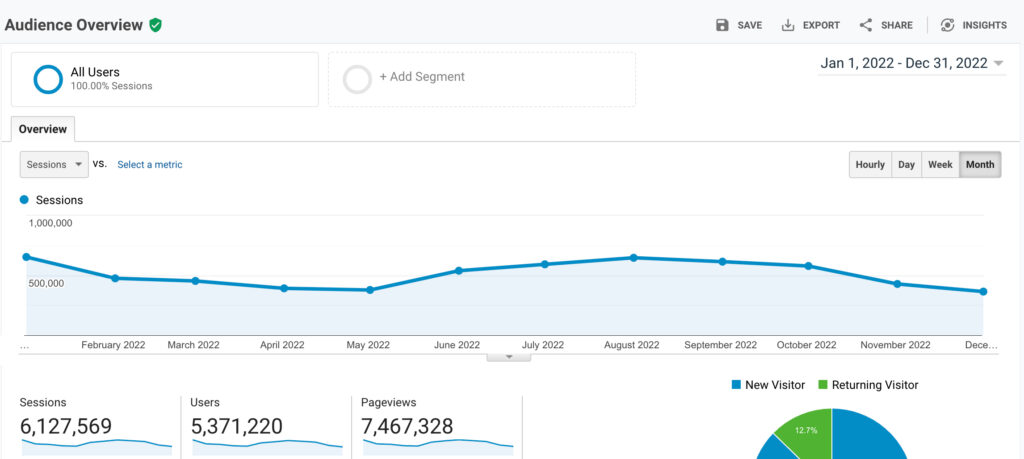 When I started my business, I spent 40+ hours a week in my spare time (since I was still working). I had so much to learn and spent most of the time reading blogs and watching YouTube channels.
I work 15 to 20 hours a week these days and I often take 2 to 4 weeks breaks (even though I check in occasionally, so I still spend 5 to 10 hours a week even when traveling).
Her Main Marketing Strategy
These days, I mainly focus on organic growth with SEO, but I still get quite a lot of traffic from Pinterest. 
When I first started in 2017, I created unique pin designs, especially for the "money" niche, which gave me an edge against other bloggers. 
These days, many bloggers are using a style similar to mine, so it's getting harder and harder to stand out, but Pinterest is still worth the effort.
You have to keep up with what seems to work right now. 
My current strategy is to create 3 to 4 pin designs as soon as I publish a new article and pin them to the most relevant boards. Group boards have lost their mojo, so nurturing your own boards is essential.
If you are just starting out and don't have many articles to pin, add other people's pins on your board that are relevant to your keywords.
So, for example, if I create a new board for "Smoothie Recipes," I will pin at least 15-30 pins from other people, which will help Pinterest understand what that board is about before pinning my own pins.
And remember to stay consistent: It takes at least 3 to 4 months now for a pin to gain traction. So keep working on your Pinterest, even if you don't see immediate gains.
The Importance of SEO
SEO is my main focus. 
I look for keywords related to other keywords I rank for. 
So, for example, if I rank for "Chickpea salad," I would look at creating articles around that. Things like "Gluten-free chickpea salad," "Vegan Chickpea salad," and "Chickpea salad recipes" could all be keywords worth targeting.
At the same time, when I decide to write about a new topic, I try to create a cluster of articles about that topic so that Google understands I am an expert on that topic.
When I started, I primarily focused on what worked on Pinterest. 
That helped me rank for some difficult keywords, as the traffic from Pinterest might have signaled to Google that many people were reading my website.
Keyword Research
Let's start by saying I don't consider myself an SEO expert. I am still learning every day and often change my strategy.
I now use a mix of KeySearch and Ubersuggest to find relevant topics and keywords I could rank for.
Writing helpful content is always key with SEO, and I do my best to provide value with everything I write.
Link Building
Every SEO guru out there says that link building is incredibly important. So, in the first couple of years, I focused on building some good links. 
I was mainly using HARO and responding to their requests. I did get some good backlinks, but I didn't find the time and effort worth it.
So, I haven't been building links for at least two years now. Most of the links I get are organic, through people linking to my articles directly.
It might not be the best strategy, but I'm happy with my progress.
Sara's Content Creation Process
I wish I had a content schedule and was months ahead with my blog posts, but the truth is that I don't have a strategy at all! 
After all, this business is all about lifestyle for me.
I had a 60-hour-a-week job before, and the last thing I want in my business now is too much structure. 
I decide what to publish at the beginning of each month. I currently write between 4 to 6 articles per month. I wrote everything for the first four years, but now I have some freelancers who help me with content creation and only promote my content on my blog and Pinterest.
This helps me concentrate on what I love more, like taking photos of recipes with my partner.
I provide my writers with outlines and do all my keyword research. I then edit all articles and add personal notes and experiences, as connecting with my readers is essential.
Her Email List
I have around 60,000 subscribers, but they never earn from me. 
This is something I need to work on. One day, one day. Right now, all I'm doing is collecting subscribers.
And to help with that, I offer some freebies related to the blog posts people are on. For example, I offer a free meal planner on my recipe pages or a saving money chart in my finance articles.
Her Favorite Resources
I find Niche Pursuits articles to be very inspiring (which is why I said yes to this interview!). I also love the Side Hustle Nation podcast and blog from Nick. 
He interviews many inspiring entrepreneurs, not only in the digital world, which I always find incredibly useful—but also Authority Hacker (website and YouTube Channel).
Her Go-To Tools
On a daily basis, I use:
Google Docs and Google Sheets: To organize my blog and share files with a couple of freelancers who are currently helping me.
Adobe software: Lightroom for editing photography for the articles and Photoshop and Lightroom to create pins and graphics. 
Her Biggest Challenge
I had exponential growth in the first three years of my business, but things stalled a bit from year 5 (I am now in year 6) and I don't know why.
It's hard to leave the rat race mentality and stop always looking for growth. But I value the lifestyle this business gives me more than the monthly profits.
This is still a work in progress and something I always need to remember.
Her Greatest Accomplishment
My greatest accomplishment is finding the perfect work-life balance while working on something I love.
When I worked at my corporate job, I felt like I had no freedom. I had to be in the office every day. I felt trapped. Like my time wasn't mine.
If it was sunny outside, I couldn't just go for a walk. I had to work. 
On my way to work, I saw all these people sitting at coffee shops like they had nowhere to be. I had this dream of being able to do that one day.
And that dream has now come true. I never work more than 3-4 hours a day, and I am the master of my own time. 
This is my biggest accomplishment.
What She Wishes She Knew When She Started
I wish I knew more about SEO. 
I didn't know anything about it for the first 4 to 5 months of my blogging journey, and by investing in learning about it sooner, I could have increased my Google traffic faster.
I took Mike's course Stupid Simple SEO and my Google traffic improved massively within six months. 
Her Main Mistake
My mistake is not asking for help sooner. 
Coming from a career where I managed over 60 people, I was convinced that introducing a team would complicate my process, bringing me back to the stress of my old job.
So, I worked alone on my website for almost five years.
But when I finally hired some freelancers to help me with content creation and a VA to help with other tasks, I actually freed more of my time and created a better working structure for myself.
Finding someone who helped me wasn't easy. I tried different avenues. 
I looked at Fiverr first. Most freelance writers weren't up to the task, but I found one person who still collaborates with me. 
Another writer came through a recommendation from a Facebook group.
And I found my VA through a painful selection process. I advertised that I was looking for help on a few Facebook groups and got over 150 applicants!
Luckily, I created a Google Survey for them to fill out, and I interviewed only people who actually took the time to personally and thoroughly answer.
Her Advice for Other Entrepreneurs
You don't need to find an obscure niche or business to be successful.
Your first idea might fail. Your second one, too. But if you take action instead of looking for the perfect idea, you'll find a way to turn your dreams into reality.