How Saranya Ramanathan Earns $5k/Month Giving Clever Career Advice
Saranya Ramanathan is living proof that you can do anything you set your mind to.
She started her blog, One Fine Wallet, as a side hustle back in 2018. She had no prior experience, no technical background, and no knowledge about SEO. But she put in the work, kept her nose to the grindstone, and most importantly, never gave up.
Today her personal finance and career blog is bringing in $5000 per month through a combination of affiliate income and ad revenue.
Keep reading to learn more about:
How and why she started her blogHer approach to affiliate marketingHow she uses PinterestHer keyword research strategyTips on content creationThe importance of recurring affiliate incomeHer favorite toolsWhy and where she outsources tasksHow she stays on top of industry changesHer thoughts on theme selectionHer steps for starting a blog todayAdvice for other entrepreneurs
Meet Saranya Ramanathan
Being a stay-at-home mom with two little girls in the UK, I started this blog as a side hustle in 2018.
Back then, I was scrolling through Pinterest to find kids' recipes and stumbled upon a blogger who claimed she made a full-time income with her food blog. 
Right up until that point, I never knew bloggers made money let alone a full-time income!
That was the biggest turning point in my life. 
It was when I realized that there was a flexible online business that I could run from home, with little investment. I remember paying no more than $180 the first year, for hosting and a premium WordPress theme.
My blog has since made an average of $5,000 a month from a combination of advertising income and affiliate sales.
Why Saranya Ramanathan Started One Fine Wallet
My initial goal was to grow One Fine Wallet to earn at least $500 a month. It was a small and realistic target, as I found bloggers earning well over $5,000-$10,000 a month. 
While I was confident about learning how to turn a blog into a business, my biggest fear was the technology behind starting a blog and growing a social media following.
Pinterest was a big source of traffic for most bloggers in 2018, and I thought that if I could figure out Pinterest I would get the traffic I need. While I can say from personal experience that Pinterest still works in 2022, it's best not to fully rely on a single social media platform.
SEO is the most reliable form of traffic and having a good balance of search engine and social traffic is essential if you're looking to start your blog this year.
Going back to the blog technology, it wasn't as tricky as I thought it would be. It was fairly easy to understand even for someone who only uses the internet for emails.
As a first-time blogger, it took me a couple of weeks to learn how to fully design and get my blog set up, and ready for my first post to be published. So if you're like me, there's no need to fear starting a blog if you've never done it before. 
There are plenty of free and paid resources available to help guide you along the way.
How Much She's Earning Per Month
On average I earn $5,000 a month, but this increases and decreases with seasons. December and January are slow months as my blog does not have posts relating to the holiday season, resulting in low traffic. If you're a food blogger, this would probably be a different story.
My monthly breakdown is an even split between ad and affiliate income.
The ad company for my site is Mediavine, which brings me over $3,000 a month, and the rest is from affiliate sales.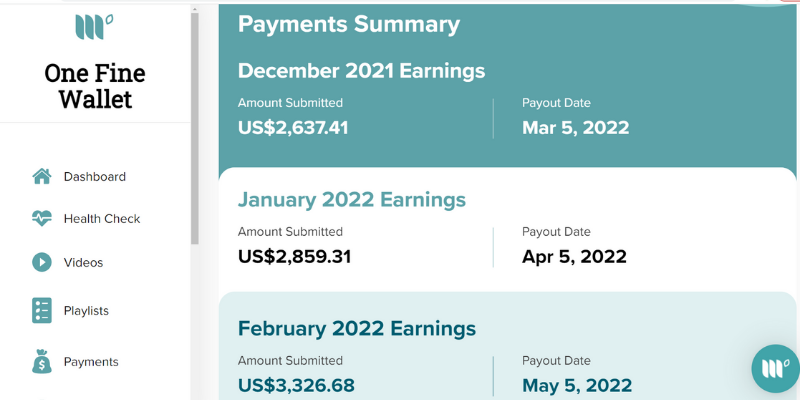 I started my blog in May 2018 and by November of that year, I was able to get into Mediavine. Almost 80% of my traffic was from Pinterest and Mediavine had a lower entry requirement of 25,000 sessions at that time. The entry requirement now stands at 50,000 sessions.
Saranya Ramanathan's Growth Strategies
While I truly believe that traffic is important to increase your income, I don't think you can make $5,000 a month only if you have huge traffic to your site.
The reason I say this is because of affiliate marketing.
Yes, ad income is directly related to your blog traffic. So the more traffic you have, the more ad income you earn. But that's not the same for affiliate marketing.
Affiliate Marketing
For example, say you have a blog that has over 1 million readers a month. There's a fast-selling recipe book that earns you a $10 affiliate commission per sale. If you sell 200 copies a month, you'll earn $2,000, which is great.A
Now, if you have a small blog with 20,000 readers a month and make just one sale for a $1000 online course with a 40% commission, you earn $400 right there.
Promoting high-ticket affiliate products that you believe are relevant to your audience will help you reach your income goal sooner. 
When it comes to searching for these high-priced affiliate products, Google is all you need. First, look at your niche and figure out what kind of products you can sell. 
Some high-end products include fitness equipment, kitchen equipment, meal delivery services, jewelry, pet training programs, and various other online courses.
There is a bit of research involved in finding the right affiliate program. First thing is to narrow down a list of programs using Google and search keywords like "Meal delivery services affiliate program" or "kitchen equipment affiliate programs."
Write down the list of programs available to check out the commission rate and the cookie period. I always go for those that have at least a 30-day cookie window. Choose the program that best suits your audience to promote. 
This was something I learned over time, and a very solid affiliate marketing strategy to increase income on a small blog.
I also avoid repeating the same affiliate links too many times within a post. This builds curiosity for the reader to read through the article to find information leading to the affiliate product.
So, if I am writing a paragraph about a recipe book, I would link to the recipe book at the end of the paragraph and not every single time I mention the book. This way the reader is well informed about the contents of the book, increasing your chances of a sale. Too many of the same affiliate links can also bore the reader into not clicking at all.
Using Pinterest Today
Pinterest still continues to bring me traffic in 2022. 
While I have no solid strategy, I continue to share one pin a day. This can either be a new pin to a new post or a new pin to a popular old post. 
I don't use group boards anymore. Most of my pins are shared within my own personal boards that have keywords relevant to the pin.
Saranya Ramanathan's Main Marketing Strategies
A combination of affiliate marketing, social media, and SEO has grown my site to where it is today.
Small blogs would definitely benefit from a boost in social media traffic, but three months in, SEO should be the main focus.
Finding blog topics with low competition and a volume of under 500 is easier to rank for new blogs.
I use Keywords Everywhere, a browser extension that gives a general overview of Google data trends and competitor search volume. Once you add the browser extension, every time you use Google to search for a topic, it will show you the DA (domain authority) of sites listed on Google. It will also show you long-tail keywords that you can include in your blog posts. 
Keywords Everywhere is a simple yet great tool to brainstorm blog posts and keyword ideas.
Link Building
In terms of link building, I tried using HARO initially, but now I find domain authority can grow organically as your blog gains traction. 
While I was sincere in replying to HARO requests for a few months, it didn't feel like the best use of my time. I felt the amount of time spent with link building could be used to create new posts or optimize old content. With well-optimized content that stands a chance to rank on Google, you will organically receive the backlinks needed to improve your DA.
Achieving Current Revenue Levels
The first year was a learning curve.
While I started earning a few hundred dollars a month from Google AdSense, my affiliate marketing strategy was going nowhere.
That's when I began creating review articles and tutorials. These types of blog posts are very in-depth, giving readers a "behind the scenes" look at a particular product or service.
Readers love seeing real results to see if the product, service, or program is worth the investment.
If the reader gets all the answers to their questions within that one post, they will readily buy the product. 
For example, if you were to write a review post on a particular laundry detergent, include how-to-use images showing a step-by-step process and the final result. This will give readers an idea of the benefits of using it. Also, don't forget to mention the drawbacks, if there are any. This will help them make an informed decision.
Apart from review and tutorial posts, promoting products that provide a recurring income is also a benefit. 
Recurring income refers to affiliate products that have a repeat income, mainly subscription-based products. If someone decides to buy a monthly meal plan that offers a recurring commission of $20 a month, you will earn this amount every month for as long as the member is active.
This means the sale that you once made is bringing you $20 every single month.
If you have a small blog and want to make money from it, direct all your energy to affiliate marketing. Affiliate marketing, when done right, can contribute to a big chunk of blog income, even without ads.
If you have a small blog and want to make money from it, direct all your energy to affiliate marketing. Affiliate marketing, when done right, can contribute to a big chunk of blog income, even without ads.
Current Traffic Stats
For the month of January 2022, One Fine Wallet received just over 90,000 views for a 31-day period. While the site currently has over 200 posts published, there are only 40 that contribute to the majority of traffic.
I say this because, initially I was so focussed on increasing the number of posts on my site, that I hardly did enough keyword research. When I look back at some of the posts, they actually have zero search volume!
Don't rush keyword research. Take your time and plan each article to make it worth your while. 
I publish one post a week and optimize older posts regularly. When it comes to optimizing old posts, I tend to add keywords to posts that are already ranking on pages 2-4, as these posts have a chance of improving their rankings. 
On the same note, when a post does do well on Google, no matter how tempting it might be to improve it, try not to touch the main heading. 
I made the mistake of altering the title of a blog post that was already ranking on the first page of Google (hoping it would rank even higher), and it totally lost its ranking. 
Lesson learned: If a blog post is doing well with SEO, you can add to it, but do not delete images or remove words or sentences. And most of all, never change a blog post title if it's doing well. Doing this will let Google treat the old post as a brand new one. 
My best advice is to never touch a post that is already on the first page of Google. I say this because altering a high-ranking post can in fact do more harm than good.
SaranYa Ramanathan's Top Three Tools
There was a time when I ran the business on my own, from writing to marketing. This caused a lot of burnout. I found myself working even on weekends.
Outsourcing some of my work has helped free up time, allowing me to balance work and family. This is usually done through word of mouth or from recommendations on Facebook groups for bloggers. Other platforms to find writers are Problogger, Writer Access, and Fiverr. While Fiverr can be a budget-friendly option, it is usually hit and miss. 
Currently, I still do the keyword research part myself, but have writers put the content together; this helps ease my workload.
Keysearch is my favorite tool for doing keyword research. I also love using Ubersuggest at times. 
Canva is my next favorite tool, for creating featured images and social media graphics. It's free and very easy to use. Not only is Canva great for images, but you can also create short videos if you consider incorporating them in your posts.
Her BIGGEST Challenge
My biggest challenge is keeping up with updates and algorithm changes.
Every blogger should definitely be part of some kind of blogging group to stay updated. For me, Facebook and email newsletters from bloggers I follow help me be on top of things.
There are a good number of free/private Facebook groups with active members who provide a ton of information. Find your niche and join these groups to keep yourself informed. 
Joining the email list of bloggers who send out up-to-date newsletters on current trends in the blogging world will also save you the hassle of researching the information yourself.
Like any other career, you will need to keep changing your blogging strategy with the growing trends. A strategy you might have used in 2002 will not work in 2022. 
It's important to be flexible and ready to adapt to these changes.
Saranya's Greatest Accomplishment
My greatest achievement would definitely be growing my blog single-handedly without any blogging experience.
Believe it or not, I opened my first Facebook and Pinterest account when I started my blog. I was so late in the game and always questioned myself if an introvert like me would ever make it far, and I feel blessed to think I did. 
If this is something that is holding you back, I would definitely tell you to brush that feeling aside. 
Anyone can grow a blog into a thriving business, even if you're doing it on your own. Focus on important blog tasks like content and keyword research.
Things like branding your site or logo design can consume a lot of your time. Start with a simple logo and a neat design, so your site is easy to read. The rest can be tinkered with over time.
What She Wishes She Knew When She Started
Using a lightweight blog theme is very important. 
To the best of my knowledge, Astra is a good and free lightweight theme to use. I used the Divi theme from Elegant themes that was recommended by many bloggers I followed. Unfortunately, it's a heavy theme and tends to slow my site speed.
I chose to not change my theme as I worry this might skew up my rankings. Now that my Google traffic is slowly increasing, maybe someday I will!
Instead of changing my theme, I chose to use a few other tools to improve page speed like ShortPixel image optimizer and WP Rocket to improve site performance. 
While I'm someone who prefers not to use a ton of different plugins, I believe these were essential to help improve my page speed.
One of the few things that's best not to mess around too much with a blog is its theme.
Had I known this when I started my blog, I would have researched more when choosing the right theme for my blog.
Her Main Mistake
I was very late in the SEO game, the reason being, that I was so focussed on getting content published and shared on social media for an instant traffic boost.
This wasn't a good long-term strategy.
Out of the 200 posts published on my site, I could delete at least 40 posts and still not see a decline in traffic.
Some of these were shorter posts with very minimal keywords. 
If I started a blog today here are a few things I would do differently:
Choose a small but profitable nicheDo keyword research and outsource content writingPick a lightweight theme that offers good page speedWrite long-form content and review articles – (2,000 words worked well for me)Buy stock images – Canva Pro allows you to use premium images for less than $11 a month
Saranya Ramanathan's Advice for Other Entrepreneurs
If you haven't started a blog yet, start now. It's the best passive income stream that is flexible either as a side hustle or a full-time income.
Every business has its ups and downs. No business is born to thrive from day one. You need to give yourself time to grow and you will see success. 
Speaking as a parent, it's important to first work out a schedule to balance work and family life. This could mean contributing 10 hours or 30 hours a week, whatever suits you.
When I started my blog, I had just one published post on my site and added one blog post a week. I was a busy mom back then and I could only contribute 2 hours a day to my blog, most of which was spent learning WordPress and SEO.
But that's fine because I believe the less stressed I am, the better I work, and this will also see you through to success.