How The Creative Penn Became a Million-Dollar Self-Publishing and Blogging Business
The Creative Penn is a website about writing and creativity. It was founded by Joanna Penn in 2008, and has since become a go-to resource for writers of all levels. 
The site features articles on everything from how to get published to how to overcome creative blocks, as well as interviews with successful authors and industry professionals.
Today, Joanna generates around one third of her income from her writing business and the rest from creative writing instruction and blogging. 
She started writing in 2006 and quit her corporate job to devote her time to writing in 2011. Now, she even employs her husband full-time to help her manage her growing writing empire.
The site has over 1000+ articles and over 500+ hours of free audio and video, as well as extra downloads and bonus material!
Let's take a deeper look into how The Creative Penn website supports a multi-million-dollar self-publishing success story.
How The Creative Penn Gets Its Traffic
The website appears to be attracting 114k monthly visits. 
According to SimilarWeb, almost 60% of its traffic comes from organic search, with the majority of the rest being direct.

What is interesting about this overview is how little traffic the site gets from social media. 

Delving deeper into the social media traffic reveals that nearly 43% is from YouTube, where The Creative Penn channel has 47.1k subscribers. 
Most of the 800+ videos are recordings of the weekly podcast, along with some writing tutorials.
What Types of Keywords Does The Creative Penn Target?
The Creative Penn website is looking pretty solid, but what does it take to stay safe from Google penalties? 
Out of all the keywords, over two-thirds have informational intent. That's a good sign that the site isn't just a dumping ground for money pages masquerading as informative articles. 
There's enough valuable content here to keep things balanced and give readers what they're looking for. So, as long as The Creative Penn keeps up this good work, they should be safe from any future penalties. 
That said, some of the top performing pages on the site contain affiliate links. The top performing page after the home page is an article about book cover design.
How Their 'Money Pages' Look
Whilst it's true that you shouldn't judge a book by its cover, there's no denying that a beautiful cover can be the difference between a reader giving your book a chance or passing it over altogether. 
This is NOT a task you should trust to your 15-year-old nephew who is taking an art class in high school! 
After several paragraphs encouraging you to invest in a professional book cover design if you want to give your work the best chance of success, this article lists over 80 resources for book cover design, many of which are affiliate links.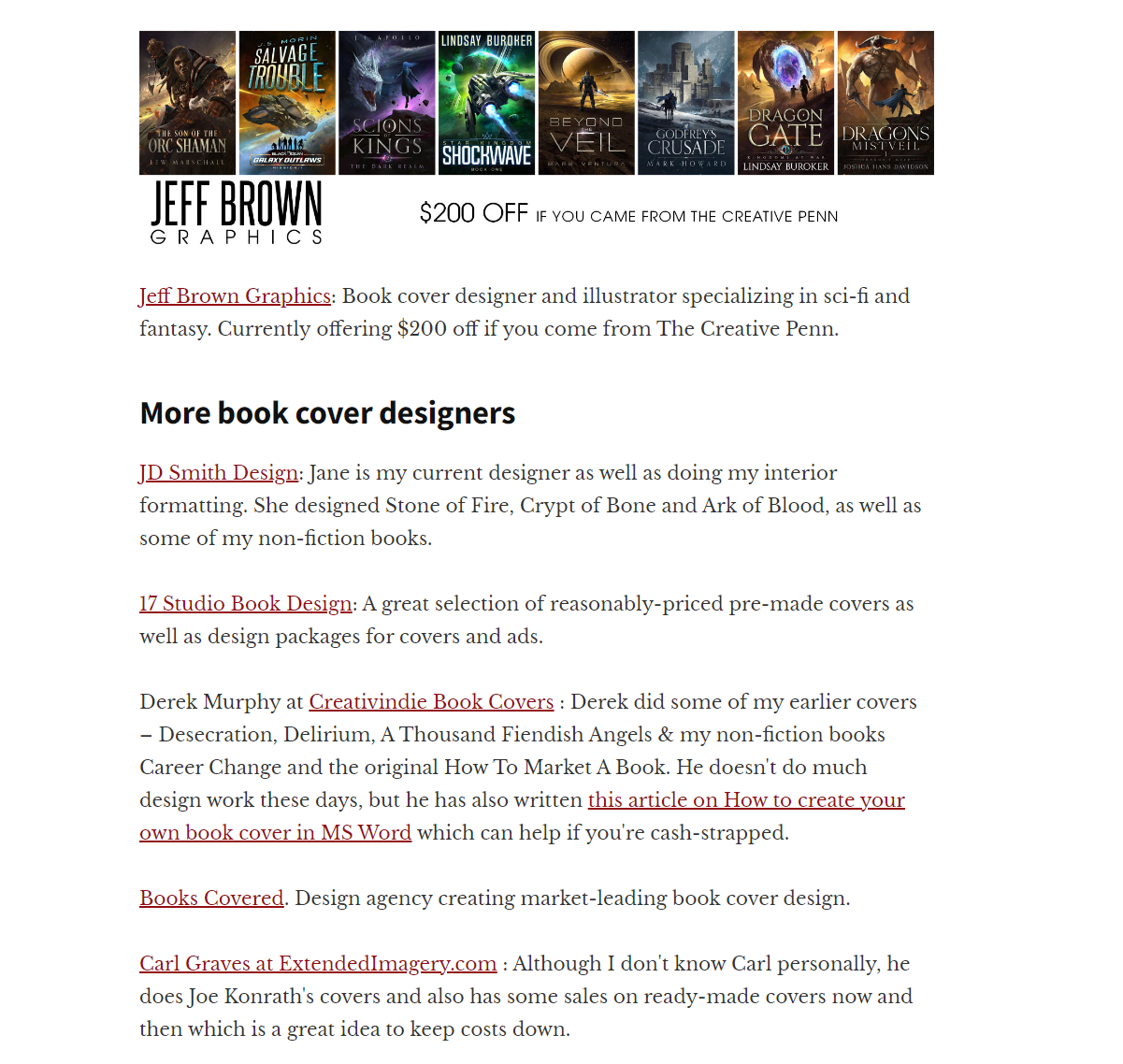 Joanna lists book cover designers she has used personally, now and in the past, as well as those who work for fellow writers, and some of the designers offer discount codes.
Joanna's non-fiction books for writers have long been integral in funneling visitors to the courses category page, which is the third highest-performing page on the website. 
Her writing courses are well regarded within the industry, providing writers with the tools they need to improve their craft. 
As a result, the courses category page is an important part of the website, showcasing Joanna's expertise and helping writers to improve their skills. 
By using Teachable as her preferred platform for hosting her courses, Joanna can give students a great user experience and increase the likelihood they'll purchase again. 
What's Their Link Profile Like?
Joanna's website is doing quite well, attracting links from high authority websites such as The Guardian, Wikipedia and the BBC.
It's likely that the useful content ‌drew these links in, but Joanna's active presence as a podcast guest probably didn't hurt either. 
It's clear that the site has been successful in generating links – whether through natural means or through active outreach. Either way, it's clear that the site is doing something right.
Keep up the good work, Joanna!
What Does The Site Do Well?
The Creative Penn is a clean, professional looking website with clear navigation and easy to find information. Joanna Penn has a background in marketing and it shows. The color scheme is pleasing to the eye, and the navigation is easy to understand. 
First impressions are everything, especially on the internet. Which is why it's important to make sure your homepage is up to snuff. And when it comes to sign-ups, there's no room for error. 
The sign up to her mailing list is clear, concise, and easy to find. It's just below the fold on the home page, so visitors won't have to scroll down to find it.
She's got a great lead magnet to offer – and the buttons are crystal clear. 
The email sign up is also featured in the footer and the sidebar. As far as mailing list platforms go, she's using ConvertKit. So you know your information will be in good hands.
How Does The Creative Penn Make Its Money?
There are no ads on the site, so that's not the source of revenue. Instead, it appears to rely on affiliate links for products and services that Joanna uses and recommends, such as writing software, book cover design and editing services, and other resources. 
In addition to affiliate income, The Creative Penn also sells Joanna's products. These include e-books, audio books, and online courses. 
So How Much Money Does The Creative Penn Make?
It's important to remember The Creative Penn is part of a bigger ecosystem. In 2021, Joanna Penn's book sales revenue was just a little over six figures in GBP, but only makes up around 1/3 of her company income.
Her other streams (affiliate income, courses, podcast sponsorship and patronage) are driven by The Creative Penn website and her podcast, so we can assume that she's generating upwards of $200K per year once the book sales are taken out of the equation.
And SimilarWeb estimates an annual revenue between $1-5 million!
What Can We Learn From The Creative Penn Website?
The Creative Penn is a great example of how a well-run website can support a million-dollar author entrepreneur business. 
The website gets the majority of its traffic from organic search, and its top keywords reveal it is a go-to resource for writers of all levels.
What's even more impressive is that she's built all of this while being based in the UK, where the cost of living is notoriously high. 
So, if you would love to self publish a book but feel like your dreams are out of reach, remember that Joanna Penn is proof that anything is possible.