How to Create an Affiliate Marketing Funnel in 2022 [Quick & Easy]
Want to make money online with affiliate marketing?
Then you'll need an affiliate marketing funnel.
In this post, I'll explain everything you need to know about affiliate marketing funnels, including:
What they are and how they workWhy you need oneWhat you'll needAnd how to build one
By the end of this article, you'll know how to build your own affiliate marketing funnel so you can start making affiliate commissions.
Let's get started.
What is an Affiliate Marketing Funnel?
An affiliate marketing funnel is a collection of pages and communications that take a person through the buyer's journey.
You, the affiliate, facilitate the buyer's journey by:
Raising awareness of a problemBuilding trust and credibilityMaking an offerFurther communications to convert more people
It's all about helping people realize the problems that exist in their lives — then pointing them in the right direction to solve the problem.
The funnel itself consists of pages, each with a different purpose.
The opt-in page
An opt-in page, also known as a landing page, offers a free gift for the prospect's email address.
The free gift is known as a lead magnet, because it is usually seen as something valuable to the prospect.
They are drawn to the offer, like a magnet.
The page uses compelling copy to influence the prospect to enter their name and email address.
More on how to create an opt-in page later.
The thank you page
This is the page people are directed to after they enter their name and email address.
The purpose of this page isn't just to thank them for downloading your lead magnet.
It is to introduce them to the affiliate product.
Technically, it is optional to offer the affiliate product at this stage, but it is a good opportunity because some people will buy.
Sales page
This is where your lead leaves the thank you page and lands on the product sales page.
From this point forward, it is down to the copy of the sales page to convert the lead into a buyer.
If you did a good job selling the product on the thank you page, then you might have a higher conversion rate.
Follow-up email sequence
The last piece of the puzzle isn't a page you build, but emails you send to your leads.
It is optional, but you will lose a huge opportunity to make more commissions.
More on why that is later in this post.
The emails you send provide more value to your leads by sharing tips to help them solve the problems they face.
You then promote affiliate products that can speed up the process or that make it easier to solve the problems.
Affiliate funnel vs sales funnel
The main difference between affiliate funnels and sales funnels is who operates them.
Affiliate funnels are operated by affiliates and sales funnels are operated by the owners of the product or service.
As an affiliate, you are the middleman (or woman) educating the market about solutions to a problem.
And the affiliate funnel is the bridge between the target audience and the sales funnel or sales page.
Pros and Cons of Affiliate Marketing
Like all business models, there are pros and cons for affiliate marketing that you should know.
They will help you decide whether it's the right path for you.
Advantages of affiliate marketing
One of the biggest advantages of affiliate marketing is the low barrier to entry.
All you need is a product to promote and a way to promote it, which is where a funnel comes in.
The costs are minimal: no packaging or shipping products, zero customer service complaints, and no returns to deal with.
You can also start promoting a product today and make affiliate commissions tomorrow, if you know what you're doing.
Disadvantages of affiliate marketing
Of course, there are downfalls to any business model.
The biggest disadvantage is needing to gain the trust of your audience.
There are a lot of phony affiliate marketers out there trying to make a quick buck, so consumers have learned to suspect all marketers and salespeople.
It's also very difficult to track who buys anything.
That's because as soon as one of your leads land on a sales page, there's no way of tracking what they do.
Selling your own product combats this issue, because you can track exactly who buys from you and build a deeper relationship with them.
You also have more control over the development of your own product.
However, affiliate marketing is still a great business model that you can one day shift into selling your own digital products.
Why Do You Need a Funnel for Affiliate Marketing?
The main reason you need a funnel as an affiliate is to build trust and credibility.
Posting an affiliate link in forums or social media posts isn't effective and many times, isn't allowed.
Another reason is it enables you to communicate with your audience to raise their awareness.
Here's the psychology behind it.
You offer a free gift because it's an incentive for the prospect to hand over their email.
It's a tiny commitment that causes minimal friction.
The reason you need their email it to continue communicating with them.
If they get value from your lead magnet, they will happily stay on your email list.
The continued value you offer builds the trust needed for them to consider buying the affiliate products you promote.
What You Need to Build an Affiliate Marketing Funnel
In this section, I'll show you exactly what you'll need to build an affiliate marketing funnel.
And in the next section, I'll show you how to piece it all together.
An affiliate product to promote
This might be the most important piece of the puzzle. Because if you don't have something to offer, you don't have a business.
Moreover, the products you promote need to be good quality, or you won't satisfy your leads and they will unsubscribe from your list.
With that said, let's find something right now that we can promote.
Where's the best place to start?
Clickbank.
Clickbank is a marketplace that sells digital products and they offer commissions as high as 75% and sometimes higher.
This is what separates it from an affiliate program like Amazon, because the Amazon Associate program offers very low commission at around 3%.
The reason is because the products are physical and take up warehouse space and need to be sent by post.
This is what makes promoting digital products from Clickbank so appealing, because the commission is so high and people can download them immediately.
To find a Clickbank product, head over to the website and click Marketplace. You might need to create a free account to access the marketplace.
You can browse through the categories in the sidebar, or do a search:
Look for a product that you would buy yourself. Or something that you are interested in.
Pro Tip: The better you understand the problem that the product solves, the easier it'll be to connect with your audience.
To decide, choose a product that affiliates are already making money with.
You can define this by looking at the gravity. The official Clickbank meaning of Gravity is:
"Over a 12-week rolling period, the ClickBank Gravity Score calculates how many unique affiliates are making commissions on a particular offer, with a higher emphasis on more recent product sales."
A good range to aim for is anything between 15 and 70.
If it's too low, it could indicate a low-quality product.
And if it's too high, it could be because of a product launch or an aggressive marketing campaign.
An extremely high gravity makes it hard to determine whether a product is good or just a product of good digital marketing.
Once you've chosen a few products, make sure they meet the following criteria:
An attractive sales pageIt's affordable, but not too cheapThe affiliate commission rate is over 50%
Here's an example.
Clickbank shows the gravity score and the average commission affiliates make:
This product is for the Keto diet, helping people lose weight. It also has a nice sales page:
The price is $37, which isn't too high or too low:
And the commission rate is 75% so I make over $25 per affiliate sale with this product.
The lead magnet
Now that I know which affiliate product to promote, it's time to create a lead magnet that my niche would want.
How do you decide what your lead magnet should be about?
Easy. It should either be something that improves the person's situation or things they should avoid.
For example, for this keto product, I would create a simple checklist of common mistakes people make on the keto diet.
And I can find out what these mistakes are by using Google.
I would look at each Google result and make a list of 7 things to avoid on the keto diet.
Then create the lead magnet using attract.io, a free lead magnet creator.
Email marketing provider
Now you need something to send your lead magnet to the people who sign up.
This is called Email Marketing Automation Software.
You'll also need this for delivering follow-up emails to continue nurturing your leads.
The question is:
What's the best email marketing software to use?
Here are two great options:
ConvertKit – Get a free account with unlimited email sending for up to 1,000 subscribers. You'll need to upgrade to a monthly plan after you reach an email list of 1,000 people.Flodesk – Get unlimited everything for one low price. Use this link to get 50% off your first year and a 30-day free trial.
Both options are great for beginners, yet they have all the tools you'll need to make your affiliate marketing business a success.
I'll show you how to send your lead magnet later in the post.
Funnel building tool or DIY with WordPress
A lot of affiliate marketers use funnel building tools to create their funnels.
Tools like ClickFunnels or Systeme, for instance.
But there is another way to build an affiliate marketing funnel.
Using WordPress.
If you've already got a WordPress site, then it's just a case of creating a couple of pages.
And if you don't have a WordPress site yet, then you only need a domain name and web hosting.
You can use Namecheap hosting, which includes a free domain name, and it's super affordable.
The pages
Earlier, I mentioned two pages you need to create an affiliate marketing funnel:
The opt-in pageAnd the thank you page
These pages can be created in any funnel building software if you choose to use one.
Or they can be created with WordPress.
As a reminder, the opt-in page contains a form so that you can collect your visitors' email addresses.
And the thank you page acts as a pre-sales landing page to promote your affiliate product.
Email automation sequence
The email sequence is a collection of emails that are triggered to send when someone signs up to your list.
You can make the email sequence as long or as short as you like, but they always follow a specific system:
Lead magnet delivery: Sent immediatelyHighlight the problem and a quick tip to solve it: Sent 2 days laterValue only email: Sent 2 days laterIntroduce the product with benefits and features: Sent 3 days laterHard sale of the product: Sent 1 day later
Then rinse and repeat.
After your leads go through this first sequence, you can add them to a new sequence. Then send out emails that provide value and make affiliate offers every 4th to 8th email.
How to Create an Affiliate Marketing Funnel
Now for the fun part; putting it all together.
In this section, I'll walk you through a step-by-step process of building your own affiliate funnel with WordPress.
Let's dive in.
Step 1: Install WordPress
If you don't yet have a WordPress site, you'll need to install it first. If you have one, then jump to step 2.
Head over to Namecheap and choose your hosting plan:
On the next page, you'll be asked to choose a domain name:
Click Add to Cart and continue through each step. Once your hosting account is created, you can then install WordPress.
To do that, log in to your cPanel and choose the WordPress logo under the Softaculous Apps Installer:
Now you can choose a simple WordPress theme by logging into your WordPress admin and navigating to Appearance > Themes:
Astra is an excellent option because it has a ton of free features, is minimal, and easy to use:
Now you're ready to move onto the next step.
Step 2: Create your pages
In this step, you are going to create your funnel pages so you can add your email form and affiliate offer.
Go to Pages > Add new in your WordPress admin:
Create a new page and call it something that resembles your lead magnet:
Next, create another page titled, Thank You:
This is the page where you will thank your new subscriber and introduce them to the affiliate offer.
Here's what I created inside the Gutenberg editor:
First, I thank them for becoming a new subscriber and then tell them I have something else for them.
Second, I introduce them to the affiliate product with a headline, image and call to action button.
You can experiment with this and test different designs. Just keep it simple.
Step 3: Set up your lead magnet
Now we need to add a form to the opt-in page and setup the welcome email that contains the lead magnet.
I'm using Flodesk, but most email marketing providers work in similar ways.
In my Flodesk account, I click on welcome and see that they have a "Deliver Your Freebie" template:
The Flodesk email customizer is really easy to use.
All I have to do is edit the text and add my lead magnet link to the button:
Now, from the Flodesk navigation menu, I click Forms and Add New:
Then customize the form to match my colors and design:
Click through to change the redirection after someone signs up. This is where you add your thank you page URL: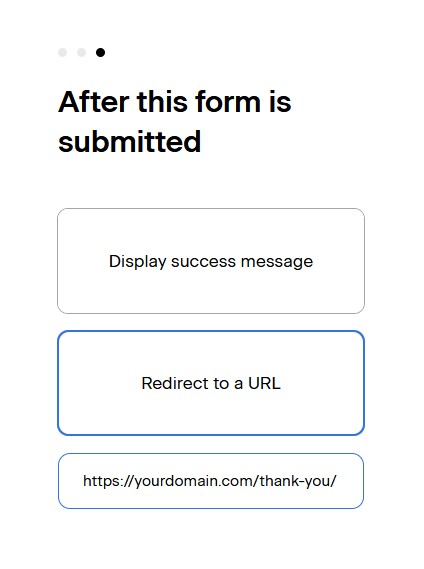 On the code page, I need to get the HTML and clicking Advanced gives me that option:
Now I can copy this HTML code and paste it into the Opt-in page:
I enter the code using the HTML block in Gutenberg:
Save my changes and the Opt-in page looks great:
When someone enters their email address, it will redirect them to the thank you page.
But I still need to get the lead magnet email to send to them. Let's do that now.
Step 4: Set up your email automation
In this step, I'm going to add an automation that sends a collection of emails to new leads.
In Flodesk, they call these Workflows:
They have a few Workflow templates to choose from:
Technically, you can separate the lead magnet delivery from the remaining follow-up sequence if you like, but I'm going to combine it into one workflow.
I've chosen to start from scratch, added the trigger, which is the name of my segment, included the lead magnet email and then wait 2 days.
I'll continue adding several more emails to nurture my leads and make the affiliate offer.
Now, anyone who signs up will be directed to the thank you page and affiliate offer. Then the lead magnet and welcome sequence will automatically send out.
All that is left to do is drive traffic to your opt-in page.
Conclusion: Create Your Own Affiliate Marketing Funnel
That concludes this guide to build an affiliate marketing funnel. As you can see, there are many parts to connect to influence affiliate sales.
The last piece of the puzzle is to drive traffic to your opt-in page. I have another blog post called increase blog traffic, which will be of interest.
In that article, I share tons of ways to drive traffic to your blog, which you can use to get more people to download your lead magnet.