Make Money With Affiliate Marketing on YouTube: A Step-by-Step Guide from ClickBank
In a previous ClickBank article on the different types of affiliates, I introduced you to the "content publisher" affiliate.
While many content publishers gravitate toward an affiliate website or organic social, YouTube itself is a unique and powerful option for growing your affiliate business.
Not only is YouTube the second most popular social network in the world (second only to Facebook), but it's also the second-largest search engine (second only to Google). It has a massive potential audience that affiliate marketers can tap into!
Don't you want to get a piece of the more than one billion hours of video watched daily on YouTube? Find out how in this affiliate marketing on YouTube guide!
Join more than 117,000 affiliate marketers!
Get expert affiliate marketing insights delivered right to your inbox. Plus, subscribe now for a step-by-step guide to getting started on ClickBank!
What is Affiliate Marketing on YouTube?
Affiliate marketing is an agreement between a product owner (seller) and another party called an affiliate. The seller agrees to pay the affiliate a commission for sending traffic to their sales page (through a trackable link) whenever those visitors buy something.
And affiliate marketing on YouTube specifically is when affiliates publish videos to promote a product or service from a seller. They'll simply insert their tracking link in the description of the video (or link to another page called an affiliate bridge page that contains the tracking link).
Benefits of YouTube Affiliate Marketing
The benefits of affiliate marketing on YouTube include:
Repurpose existing content – Many affiliate marketers already promote products as an affiliate for on their blog, website, or social profiles. Converting content that you have already published into a YouTube video means you get extra benefit from without a lot of additional work. Plus, with a video, you can easily share it as bonus content on different social networking sites for additional traffic.Free organic traffic – You can build a huge subscriber base of people who want to see your videos without spending a single cent on ads.Passive income – YouTube videos can drive traffic for years to the affiliate offers you are promoting.Fast way to reach potential buyers – According to statistics, 68% of YouTube users watch YouTube to help them make a purchase decision. Publishing videos on YouTube is one of the best ways to reach hungry buyers in your niche!YouTube is affiliate-friendly – YouTube does not penalize videos that include affiliate links in their descriptions. And you can post naked or cloaked affiliate links – whatever makes sense for you. Boost the SEO on your blog or website – Not everyone enjoys reading text. By embedding your YouTube video on your blog post covering the same topic, you can improve the user experience of your visitors. And it can cause visitors to stay on your blog longer, which is a signal to Google that your content is relevant to their search query. This might give your blog post a boost in the SERPs (search engine results page).
4 Types of Videos to Make
As an affiliate, there are many types of videos you can create to draw attention to the product(s) you are promoting.
Here are 4 ideas to get you going:
1) Tutorial/How-to videos
Tutorial or how-to videos are in high demand on YouTube. Of course, when someone searches for information on how to use a product, this may mean they have already bought it – that's not so helpful from an affiliate standpoint.
On the other hand, this doesn't mean that how-to videos are not effective for affiliate marketing on YouTube!
Here is an example of a video created by Rachel Fusaro on how to potty train your puppy. It has over 2,800,000 views, and she promotes various pet products in the description of the video as an affiliate. 
2) Product reviews
Product review videos target viewers with buying intent and typically convert very well.
In most cases, you don't need to convince your audience that they need the product you are promoting – you only need to guide them in the right direction with a product recommendation or affirm their decision to buy a specific product.
Product review videos typically fall into one of these three categories:
Videos promoting a single product.Videos promoting multiple products.Product comparison reviews.
TIP: Some popular product keywords are hard to rank for. Consider reviewing a less popular product that is easier to rank for and mention why the more popular product might be the better choice – and be sure to add your affiliate link for the popular product in the description too, of course!
Here is an example of a video promoting a single product:
Here is an example of a video with multiple affiliate links in the description: 
Here is an example of a product comparison video:
3) Unboxing videos
This type of video involves opening up a package as part of the review process. It is an effective way to establish rapport with your target audience as it conveys the impression that you are one of them.
Unboxing videos can make you appear more genuine, making viewers more likely to accept your review and product recommendations. At the very least, it demonstrates one important point: that you're an affiliate who actually tried the product in question. That hands-on experience adds a LOT of credibility!
Here is an example of an unboxing video:  
4) Best of/Roundup videos
Roundup videos are great when you want to present several products you are promoting that are all relevant to your niche and target audience. It is usually products your viewers were not searching for and may not even know, but that can help them resolve a problem.
These types of videos work well on impulse buyers.
Here is an example of a roundup video: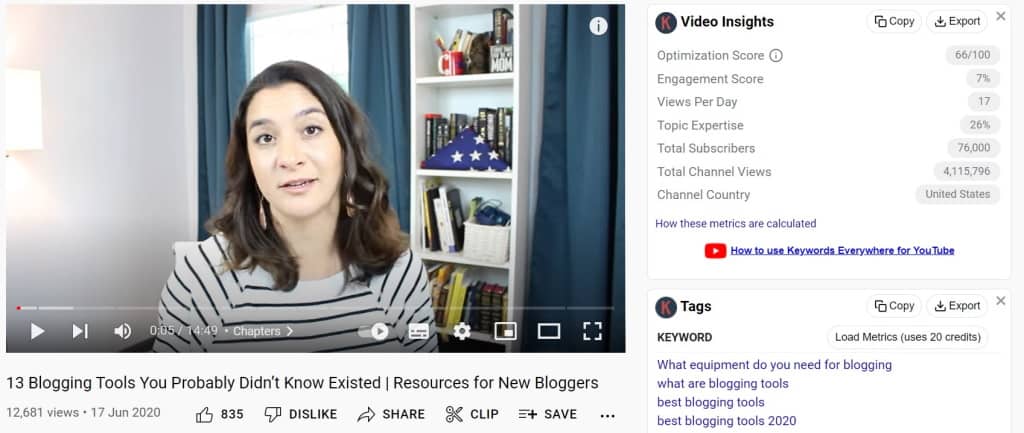 How to Get Started as a YouTube Affiliate
Many people are hesitant to promote products on YouTube. The two main reasons are that they don't know how to get started, or they are camera shy.
However, as you'll see below, it's easy to get started – and you don't have to show your face if you don't want to!
1) Pick a niche and affiliate offer
The first step (if you are not an existing affiliate) is to pick a niche you can monetize. It should ideally be something you are passionate about or want to learn more about. Once you have decided on a niche, it's time to select affiliate products you can promote to your audience!
A great place to find both inspiration (if you cannot think of a suitable niche) and affiliate offers is the ClickBank marketplace. With nearly 25 years of experience and more than 100,000 sellers and affiliates, we have a huge number of products to choose from in dozens of popular niches. 
For additional information, refer to our article on how to find the perfect niche for affiliate marketing.
2) Create a YouTube Channel
You can watch and like videos and subscribe to channels with a Google Account. But to upload or publish videos on YouTube, you actually need to create a YouTube channel.
The process to create a personal channel is quick and easy:
Step 1. Sign in to YouTube on a computer or the mobile site.Step 2. Click your profile picture and then "Create a channel." Step 3. You'll be asked to create a channel.Step 4. Check the details (with your Google Account name and photo) and confirm to create your channel.
3) Create quality videos
Now, it's time to actually create the content that'll attract viewers who you can send over to a product sales page.
If the quality of your videos is poor, you will not get many views or followers on YouTube. And those people who view your videos are unlikely to click on any of your affiliate links – before anyone is going to take your product recommendations seriously, they should know, like, and trust you.
To be a successful affiliate on YouTube, the image, sound quality, and content of your videos all have to be high quality. In addition, the title and description of your videos need to be optimized for SEO, and your video thumbnails have to stand out from the crowd.   
The above comments do not imply that you need expensive equipment as a beginner to make high-quality videos.
It falls outside the scope of this article to cover video production and equipment. However, most new smartphones have high-quality cameras, and if you are not satisfied with the sound quality, a simple lavalier microphone is very inexpensive.
If you prefer to record a video on your laptop, consider using an external webcam, such as a Logitech webcam, for better image quality. And consider getting a good microphone, such as Blue Yeti, although a lavalier microphone will also work well. 
4) Get traffic 
Some of the best ways to get traffic are:
Google Organic Search – Google bought YouTube in 2006 and YouTube is an important contributor to Alphabet's value. It is no surprise that YouTube videos often feature on the first page of Google for competitive keywords. A high-quality SEO optimized video appearing on the first page of Google can send a lot of traffic to your video and the seller(s) or product(s) you are promoting!
YouTube Organic Search – As the second-largest search engine in the world, many people head straight to YouTube when looking for information. By choosing the right keywords for your headline, creating an enticing thumbnail, and optimizing your video, you maximize your video's potential to rank well.
Note that, similar to blog posts, it can take time for videos on a new channel to rank. In the meantime, keep publishing – ideally one to three times per week!
Subscribers – When people view your videos, they can subscribe to your channel and receive notifications when you upload new videos. When you have a subscriber base, you can get instant traffic to new videos, as Google notifies your subscribers.
Social Media – Once you have created your video, post it on other platforms as well, such as Facebook, LinkedIn, Instagram, or even TikTok. Note that most social sites prefer videos that are uploaded natively on their site and don't take visitors over to a competitor like YouTube.
Question & Answer Sites – A question and answer site like Quora is very popular with people looking for answers to their questions and ranks on the first page of Google for many search queries. By joining them, you can answer relevant questions in your niche and link to your YouTube video(s).  
NOTE: Don't forget about affiliate link disclosure for your videos if you're placing affiliate links anywhere or promoting anyone else's products.
YouTube Affiliate Marketing Tips
Here are some quick YouTube affiliate marketing tips to help you succeed.
1) Optimize your videos – There are several tools you can use to optimize your videos, which encompasses everything from choosing the right keywords and hashtags to looking up valuable insights into your competitors. Three inexpensive Chrome extensions that are well worth considering are TubeBuddy, vidIQ, and Keywords Everywhere. 
2) Create helpful, high-quality videos – Your videos should not come across as a sales pitch or an ad. If you focus on delivering as much value as possible, people will be more inclined to check out your recommended products or services. That means being both informative and entertaining!
3) Know your target audience and stay on topic – All the videos you post on your channel should be geared toward the same audience. For example, if your target audience is young mothers with babies, all the videos on your channel should appeal to them.  
4) Engagement is critical – One of the key factors YouTube uses to determine the relevance and quality of your videos is how your audience engage with your videos. For example, do they watch the full video? Do they like your videos and subscribe to your channel? Encourage your viewers to like your videos, subscribe to your channel, leave comments, and check out your other videos (link to them). 
5) Respect YouTube's policies – Before uploading videos on YouTube and adding your affiliate link(s), familiarize yourself with their external links and spam, deceptive practices & scams policies.
Frequently Asked Questions:
Should you start affiliate marketing on YouTube? 
YouTube is the second-largest search engine (second only to Google). In addition, YouTube videos often feature on the first page of Google for competitive keywords. It has a massive audience that affiliate marketers can tap into, often by repurposing existing content they have already created into videos.
Do some research and see if you can find any channels in the same niche as yours. Does it seem like there's demand for the kind of content (and products) you want to put out there? If so, YouTube is a great place to do it!
Is affiliate marketing allowed on YouTube? 
Yes! YouTube allows video creators to post links, including affiliate links, to external sites in video descriptions and pinned comments. Although they do not permit anchor text, you can mask or shorten long, unattractive affiliate links.
According to Google:

"Affiliate content doesn't violate YouTube's Terms of Use. However, massively posting affiliate content in dedicated accounts may violate our policies around spam."
Can you make money with YouTube affiliate marketing? 
Affiliate marketing can be a lucrative way to monetize your videos on YouTube. When viewers click on your affiliate link(s) in the video description and make a purchase, you can earn a commission from the merchant(s) you are promoting.
And thanks to its enormous user base, YouTube can potentially send a significant amount of traffic your way. But ultimately, whether those visitors convert into customers depends on how good you are at attracting the right audience and priming them to buy through your videos.
How much do YouTubers make from affiliate links? 
The amount of money you can make from affiliate marketing on YouTube will depend on various factors. It includes how many people view your videos and click on your affiliate links, how well the offer converts, and the amount of commission per sale. Most creators on YouTube do not share their affiliate earnings.
But for one example, the above YouTuber made $451.65 with affiliate marketing on YouTube over 30 days.
YouTube Affiliate Marketing Wrap-up
Affiliate marketing on YouTube is an excellent way of growing your affiliate marketing business by reaching more people in your target audience. As the second-largest search engine in the world after Google, YouTube can be a valuable marketing tool in your arsenal!
YouTube can also give you an edge over affiliates who do not understand the platform, or who are camera shy!
Of course, we hope ClickBank can be a part of your affiliate success! With nearly 25 years in business and more than $5 billion paid out in commissions, ClickBank's marketplace has helped tens of thousands of affiliates to build their own online businesses. You can sign up for a free ClickBank account to get started!
And if you're serious about making money online with affiliate marketing and furthering your education, Spark by ClickBank provides you with the in-depth online marketing training you need.
We have a whole course called "Free Traffic Academy" with step-by-step advice on building your affiliate website and dialing in your organic traffic strategy. Check it out!