Which One is the Best Value for Money in 2022?
If you're trying to decide between Ezoic vs Mediavine, then you most likely know what ad networks are. In this article, we will go through all aspects of both ad networks and help you decide which one is right for you.
But for those who are new to the business or perhaps unsure of what an ad network really does, here's a brief explanation.
If you've been working on a content site, using an advertising network is one of the most effective methods to monetize your efforts. An ad network is essentially a broker between publishers and advertisers. It handles the communications and transactions, making the process easier for its customers. Ad networks collect and summarize data from possible advertisers, then distribute it to potential publishers who provide advertising space.
The advertisement is sent from the network server to the website when all transaction data is supplied. The information is referred to as advertising inventory for both publishers and advertisers. For example, an inventory of advertising space (inventory of publishers) may include:
Mobile
Email
YouTube
Desktop advertising space
All ads are safely stored on the ad network server and then distributed to publishers.
Even though all ad networks operate on a similar system, there are also many differences. It is important to understand the key factors before choosing between Ezoic vs Mediavine ad platforms. Let's have a look.
Ezoic vs Mediavine
The main difference between Ezoic and Mediavine is that Ezoic gives you much more control over ad placements than Mediavine. Plus, Ezoic has no minimum traffic rule. Mediavine demands at least 50,000 monthly sessions to get approved into the ad network.
We'll discuss them both in more detail below.
What Is Ezoic?
Ezoic is a full-service platform offering solutions for digital publishers wanting to make more money and improve user experience (UX) through their websites. UX and ad earnings go hand-in-hand. Publishers can earn more cash if they create better experiences for visitors. Ezoic has customers worldwide, supplying solutions for publishers of all sizes.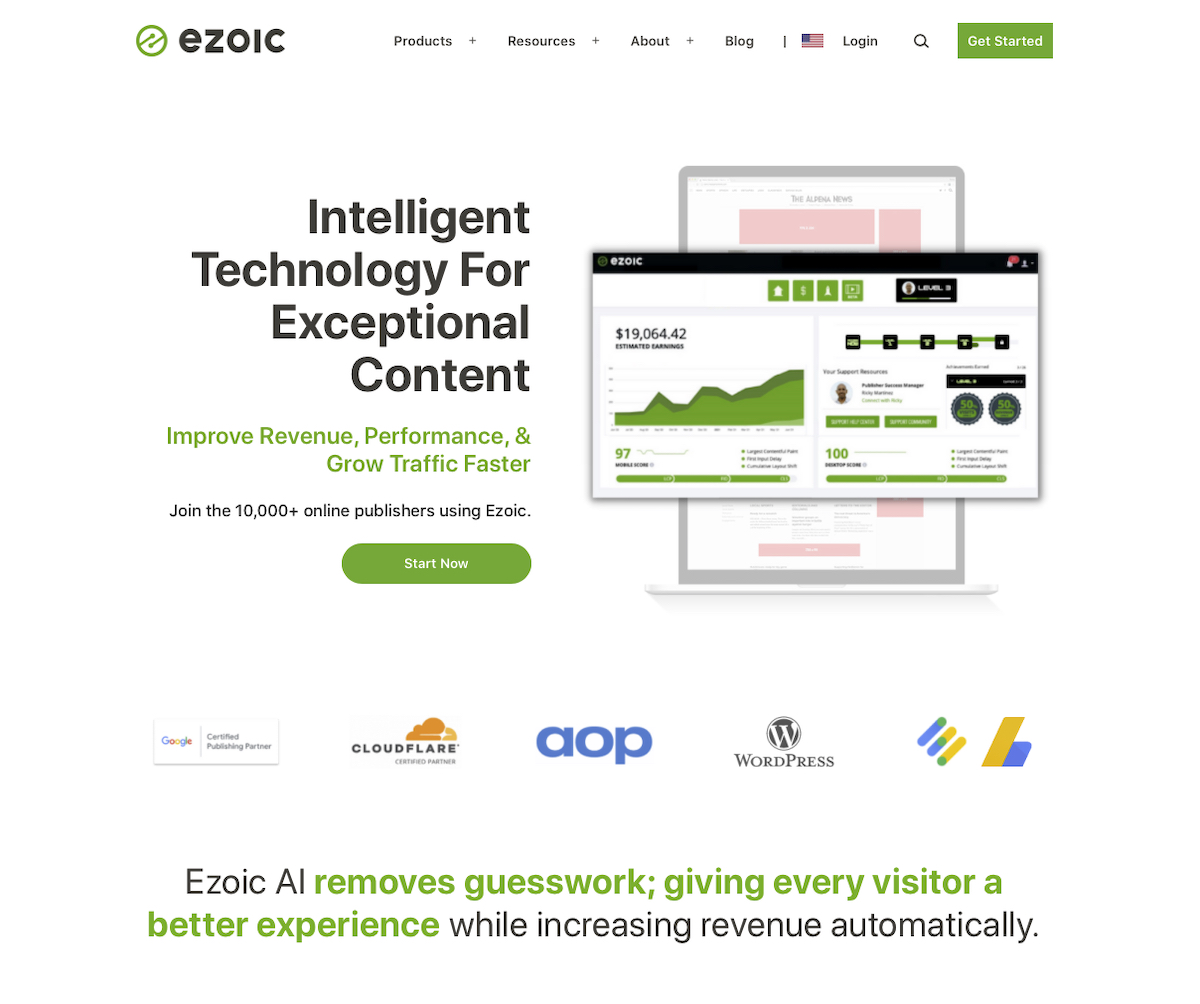 Ezoic was the first in the industry to include AI and machine learning in its features and products.
Find out more about this ad network in our Ezoic review.
Sign Up To Ezoic Right Here
What Is Mediavine?
Mediavine is a high-end display advertising network that is very popular with lifestyle sites. However, it will accept other niches. It's one of the most popular digital publishing networks because it pays some of the highest RPMs to bloggers. RPM stands for revenue per mille (mille means thousand in Latin) and is the estimated amount you will earn for every 1,000 views.
But Mediavine doesn't let just any site into its network. The company receives an average of 75-100 submissions daily, with only a small number of these sites accepted. Mediavine requires that you only use them to manage your display ads. But you can still use affiliate marketing and sponsored posts. 
Be sure to check out our interview with Mediavine co-founder Eric Hochberger on the future of display ads.
Read more about this ad network in our Mediavine review.
Minimum Requirements – Ezoic vs Mediavine
Ezoic Requirements
Before June 2021, Ezoic had a monthly page view threshold of 10,000. According to their newest official policy, there are no longer any traffic restrictions. No matter how many visitors you get, you will be admitted into their ad platform.
This means that, in theory, sites of any size can use the Ezoic platform's money-making features. You could make much more money with Ezoic than with a platform like AdSense. But there are quite a few conditions your site must meet to get into Ezoic's network.
Most significantly, your site must adhere to Google's ad policy, meaning Google Ads has never banned you from using them before.
Be in good standing with Google.
Essentially, your work cannot include anything that breaches intellectual property rights or could be regarded as inappropriate (think adult content or bullying).
Covering topics such as politics, healthcare, or finance may add more restrictions. Aside from that, your site is potentially eligible to use the Ezoic network as long as it publishes content regularly. It also has to have a mechanism for tracking traffic (Google Analytics is the easiest).
Mediavine Requirements
The main requirements for entry to Mediavine are as follows:
In the last 30 days, your blog has received at least 50,000 sessions* and you must be using Google Analytics to track traffic. You will be asked to prove it with a screenshot.
You must have excellent standing with Google AdSense.
As a lifestyle publisher, your website must offer original content in any niche. This includes pretty much any topic like travel, food, parenting, finance, etc.
You must publish long-form, compelling material (minimum around 1,000 to 1,500 words).
Even if you have one website with Mediavine, you still have to follow all the rules. And if your website changes ownership, the same conditions apply. You can't transfer an account.
*Please note that this is a requirement for sessions rather than page views, as with many other ad networks. Generally, 50k sessions can equate to around 60 to 100k page views. Sessions track how many times a user interacts with your website, meaning the user will click on links or read articles, not just have a look at the page and exit.
Open Google Analytics and look at the audience overview report to see how close you are to this rule. This will provide you with a session count for any period you specify. Log in to Google Analytics, and click on Audience Overview on the left-hand side.
Once you've confirmed that you've met the 50,000 session criteria, the only thing left to do is fill out a form. You'll need to enter basic information about the site, which will only take a few minutes. You should know that even if you meet the requirements, it doesn't mean you'll automatically get accepted.
Approval Process – Ezoic vs Mediavine
Ezoic Approval Process
If you have an active website, you can sign up and get accepted by Ezoic within 24 hours, with a few minor exclusions. The approval procedure can take anywhere from 12 to 24 hours. Plus, an extra 3 to 5 hours are required to deploy and test the network.
If your site is built on the WordPress platform (which most people use), you can easily integrate it after approval. You do this using their WordPress plugin.
All you do is upload the Ezoic plugin and connect it to your Ezoic account by copying and pasting your account ID. After that, it may take a few hours for everything to sync and start running your Ezoic ads.
Mediavine Approval Process
Once you've confirmed that you've met the 50,000 session criteria, the only thing left to do is fill out a form. You'll need to enter basic information about the site and submit it to Mediavine. From there, the approval process usually takes 2 to 3 weeks.
Even though they need you to submit plenty of information about your site (including rough pageview totals), the Mediavine team will probably email you once they start checking your application. They may ask for extra information or discuss some aspects of the details you put into your application.
As your application is going through the approval process, the Mediavine support team may contact you. They'll have questions about your content or how you've previously integrated adverts or affiliate monetization.
Once your application has been approved, they will contact you with any last-minute changes to your website. These are required to meet their advertising requirements and any additional tips or tricks. The process generally takes five to seven business days. 
Overall, it will take between three and five weeks from the time you submit your Mediavine application before you start seeing adverts on your site.
Costs – Ezoic vs Mediavine
Ezoic Costs
Ezoic has a free ad-funded service for anyone who wants to use its basic monetization tools without having to share ad revenue. The company keeps income from one ad at the bottom of the page. This is to pay for the continuous use of its money-making services. There's also a 30-day free trial (you keep 100% of the site's earnings).
Ezoic also offers a premium monthly subscription service called "Ezoic Premium." This is an invitation-only program that delivers higher-paying advertising to publishers. Publishers keep 100 percent of these high-paying partnerships with no revenue sharing with Ezoic.
There's another paid alternative for Ezoic publishers. The VIP program contains unique offerings for publishers with very large audiences. VIP members receive a discount on their monthly Ezoic Premium costs. And each of the publisher's services gets tailored to their long-term connection with the company.
Mediavine Costs
All website publishers can use Mediavine for free. It charges a flat percentage fee, which is usually 25 percent. As the number of ad impressions you generate grows, this percentage will drop. It could be as low as 15 percent.
All in all, 75 percent for you and 25 percent for Mediavine is a pretty good split (Mediavine will keep $25 of every $100 in ad income generated by you.)
With a few ad partners (GumGum, ZergNet), ad serving costs are absorbed by the partner. And in such circumstances, publishers receive 80 percent to Mediavine's 20 percent.
Publishers that continue to work with Mediavine might receive a loyalty bonus. This consists of a 1 percent annual increase in earnings for up to five years. So, after five years of commitment to Mediavine, you can receive a basic rate of 85-90 percent of ad revenue.
Ad Setup – Ezoic vs Mediavine
Ezoic Ad Setup
Ezoic is a self-service platform requiring your website to connect via cloud integration.
There are two approaches to cloud integration:
Using nameservers: This allows Ezoic to operate as a proxy and give your users the optimized version of your site. All you have to do is change the nameservers with your domain host (for example, GoDaddy, Bluehost, HostGator, NameCheap).
Via Cloudflare: If you currently use Cloudflare as a CDN (content delivery network), Ezoic can recognize it. Then it instantly links your website to the platform.
After the integration (connection) is complete, you can use the Ezoic WordPress plugin or Chrome Extension to create ad placeholders for the ads to appear on your site. Ideally, you should set up some ad units and place them.
WordPress Plugin: Based on Ezoic's best practices, this plugin automatically creates placeholders on WordPress pages.
Chrome Extension: This extension lets you choose ad locations and sizes without requiring code. All you do is simply activate the extension, then click on regions of your website to insert ads.
Mediavine Ad Setup
Mediavine is a full-service platform that requires only the addition of a script wrapper. This is basically a master script that controls other scripts to the head section of your website's HTML code. Mediavine will regulate the placement of advertising on your website once the wrapper gets installed.
There are two methods for integrating Mediavine ads:
WordPress Plugin: This plugin automatically adds the script wrapper to your WordPress site.
HTML Code: To use this option, copy the script wrapper code and paste it into your website's HTML <head> section.
If you compare Mediavine vs Ezoic for ad set ups, Mediavine flies to the top. Mediavine is a full-service platform, so it handles everything once you've installed the script wrapper code.
Earnings – Ezoic vs Mediavine
Measuring revenue is critical to understanding your company's profitability. The profit ratio, the most popular profitability metric, is calculated by dividing net income by sales revenue. This indicator shows what percentage of every dollar in sales makes it to the bottom line.
But, if you are looking for a specific RPM value like "Ezoic pays this RPM" and "Mediavine pays that RPM," that's not going to happen. Providing you with a single number that predicts exactly how much you will make on each network is pretty impossible. There are too many variables:
Your site's content
Where your traffic is coming from
Viewability – a measure of whether or not a user saw an ad. It provides marketers with the basic knowledge that a customer viewed their message and the real number of times it appeared in front of people digitally.
Fill rate – the percentage of ad impressions that actually deliver ads when an ad server requests an ad.
CPM (Cost Per Mille)
It is hard to give you a single number that precisely predicts how much you will make on each network. All you can do is have a look at trends as in Mediavine will make you more than Ezoic, etc.
Ezoic Average Earnings
Ezoic uses EPMV to calculate income. EPMV is an abbreviation for "Earnings Per Thousand Visitors." This is the amount of money you make for every 1,000 visitors to your website. It is calculated like this:
EPMV = Total Earnings divided by (Visitors / 1,000)
Here's an example:
In May, your earnings were $1000 (AdSense) + $5000 (ADX) + $500 (Native Ads) = $6,500May Sessions – from Google Analytics – were 1,000,000 visits.EPMV was $6,500/(1,000,000/1000) = $6.50 EPMV
Many factors influence a website's revenue, including:
The number of visits
How many ads are shown during each user session
Bounce rate of each landing page
Pages viewed per visit
Upstream traffic source
Time of day
Type of ad (display/native/inline)
RTB (Real Time Bidding) bidding parameters of the ad,
Viewport size
User's connection speed
Compared to RPM, the EPMV revenue statistic is more accurate in working out the overall value of each person visiting your website.
Mediavine Average Earnings
Mediavine's income split is 75 percent to you, the publisher, and 25 percent to Mediavine. Revenue shares may be increased from 75 percent if the following conditions are met:
If your site generates 5 million ad impressions in the last 30 days, your revenue share rises to 80 percent. Ten million ad impressions in the last 30 days earns you a revenue share that rises to 82.5 percent. And if your site generates 15 million ad impressions in the last 30 days, your revenue share increases to 85 percent.
Key Features – Ezoic vs Mediavine
Ezoic Key Features
Several features distinguish the Ezoic platform.
Leap: Leap is a set of tools that can help you enhance the performance of your website. It identifies the causes of poor performance and delivers automated remedies to many of the most prevalent issues.
Video Player: The Ezoic Video Player improves the results of streaming video on your website. It does this by using unique machine learning technology.
SEO Tag Tester: This tool allows you to experiment with different page headers and descriptions to see which improves SEO performance the most.
Big Data Analytics: This provides valuable audience insights into how your website's and content's different components affect your ad revenue. The data will help you work on methods to improve it.
Mediavine Key Features
Create: Create is a WordPress plugin that allows you to insert structured data-marked content cards into your blog entries. It works well for recipes, how-to tips, and lists.
Grow: Grow is a tool for user engagement. Through the acquisition of first-party data, it encourages users to check in to receive tailored, higher-performing adverts.
Trellis: Trellis is a speed-optimized WordPress theme that helps publishers meet Google's Core Web Vital performance and user experience guidelines.
The Mediavine Dashboard: Your own personalized Mediavine dashboard allows you to customize ad settings on your site, evaluate RPM data, track your earnings, and much more. The Mediavine community has a popular saying: "Go for teal." The site health check is a key element of the Mediavine dashboard. This reflects how well your site is optimized for adverts and is shown in different colors, with red being the worst and teal the best.
User Experience
One of the most serious concerns about incorporating any ad network into your website is its effect on the overall user experience. A display ad network might harm your website in two ways.
It can slow down your load times, resulting in a poor user experience and a terrible impact on your SEO efforts.
It may crowd your content with advertisements. Who wants to come to your site and read your material if they have to wade through a zillion different or intrusive ads to find what they're looking for?
While you want to earn as much money as possible from your display advertisements, you don't want to sacrifice your site's user experience.
Site Speed – Ezoic vs Mediavine
Ezoic – Site Speed
Even the most basic addition of Ezoic has an incredibly bad effect on site speed. The average page load time increases so much that users will often exit the site. But, Ezoic has ways to help tackle this problem:
The Ezoic CDN (content delivery network) helps cut the load speed by almost half in some cases. If you already use Cloudflare as a CDN, Ezoic integration is super-easy because Ezoic is a Certified Cloudflare partner.
In addition to the free "Leap" program, Ezoic offers a site speed accelerator program. This helps you improve your site's speed. It is simply a beefed-up version of the Leap program and is intended to speed up anything that can potentially affect site speed. If you're on the Ezoic platform and using the Leap program but still experiencing site speed issues, you might also want to look into the accelerator program.
But, unlike the free Leap program, the site speed accelerator will set you back $29 a month.
To find out more about Leap, read our Ezoic Leap Review here.
Mediavine – Site Speed
Adding an advertising network will cause some changes to your site's speed. Mediavine designs its ads to deal with this problem.
Unlike Ezoic, which increased page load times by 6 to 9 seconds, Mediavine increased page load by one to two seconds.
Even if you use some of the expensive Ezoic features to increase page speed, Mediavine page load times are faster than Ezoic.
There are several reasons for this, but mainly Mediavine is designed with the user experience in mind. "Lazy loading" adverts are one strategy used by Mediavine to enhance page load times (one of the most important parts of a good user experience).
This implies that adverts are loaded after the rest of the page has completed loading. As a result, Mediavine's performance is usually superior.
Compared to even the most lightweight Ezoic settings, Mediavine's ad insertion on a page has a far smaller influence on page load speeds. Overall, Mediavine may be able to more easily meet Google's Core Web Vitals improvements, improving your site's user experience.
There is no need for any free or paid add-ons to use Mediavine's capabilities.
Support – Ezoic vs Mediavine
Support is a crucial element of any business. 
Ezoic Support
Ezoic provides three levels of support to help publishers with website integration and problems.
Visit the website's support page to find FAQs.
Join the Twist Channel for conversation help.
Use the publisher dashboard to submit HelpDesk Tickets.
Ezoic also has a Facebook group that could offer some assistance.
Mediavine Support
Mediavine has four support services to help its publishers with questions about using its products.
Visiting the website's support page to locate frequently asked questions
Joining the Facebook Group for community help
Using the publisher dashboard to submit HelpDesk Tickets
Directly sending emails to the business
As you can see, there isn't much difference between Ezoic and Mediavine on support options. Both advertising networks provide many customer care choices for their website owners to get the help they need.
Pros and Cons – Ezoic vs Mediavine
Ezoic Pros and Cons
Pros
Quick setup and excellent account help
Ad testing enhances the likelihood of earning
Complete control over advertisements
Protection from policy infractions
Reporting and analytics are excellent
The payment threshold is significantly lower
No minimum visitor rule
Ezoic Affiliate makes it easier to make money
Cons
Fiddly DNS settings
Far too many complaints from users about the terrible support and no live chat option
RPMs may drop quite seriously over time and fluctuate between sites
You may have to invest in site accelerators otherwise you'll lose traffic
Mediavine Pros and Cons
Pros
High RPMs (up to $30)
Transparent about income splits
Much better support
Better UX and advertisements
Provides incentives for growth and loyalty
Cons
Slow approval process
Limited control over ad placement
High barriers to entry
Conclusion – Ezoic vs Mediavine
Ezoic and Mediavine are both premium ad networks for your website. Both will make you much more money than applying for AdSense ads could ever do.
So, you could consider signing up with Ezoic as soon as you get decent traffic. But page loading speed issues can be significant. You'll have to be ready to deal with these problems.
Before you join, I suggest you investigate how sites similar to yours (for example using the same WordPress theme or page builder) are affected by Ezoic in terms of speed.
Once your traffic really gets going and you can meet Mediavine's basic requirements, the next step would be to upgrade to Mediavine. You may experience considerable revenue increases after migrating from Ezoic to Mediavine.
As always, do as much research as you can, and then you can decide. If you don't like the results, you can change to another network – there are plenty available. For example, read our article on the best ad networks for bloggers.